When was the last time you "came up for air" long enough to take an honest look at your business? There are things you can do to achieve immediate improvements in your interior design business TODAY.  
Are you meeting your objectives? Do you even have goals? Or are you struggling, trying to stay afloat? 
Without objectives and a plan, you will continue encountering common obstacles. And they can keep you from achieving profitability and enjoying work/life balance! If this sounds familiar, you need to organize, plan, and execute a business strategy.   
Plan!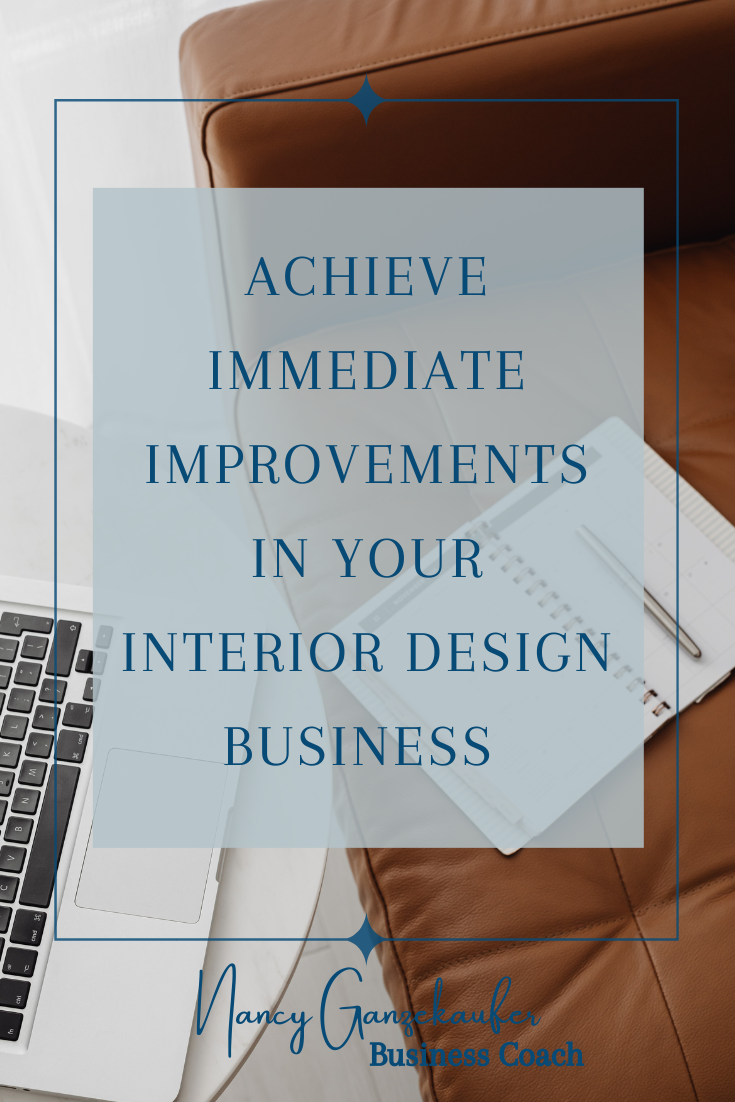 As an interior designer, your core function is to plan and fulfill interior design projects. However, these projects can prevent you from addressing other critical business areas. Even if you complete every project expertly, you need goals and actionable steps for your business.  
Planning allows you to make smarter choices, ensuring you're more likely to use your resources wisely. Your plan creates a workflow for actionable changes, incorporating the effective use of your resources for the best outcomes.  
However, it would be beneficial to document your plan to keep you on task. A well-documented plan also creates self-accountability. The key is to align actionable goals with specific improvements you need to achieve. And planning ensures you always remain forward-thinking, scalable, and sustainable, allowing you to achieve immediate improvements in your interior design business. 
Organize!
You may have an exceptional approach to project management. But the truth is, you are not as efficient as you think without organization in your business overall. 
Actionable steps in your plan create efficiency across your entire operation. As a result, you can identify the areas where freelance support can help improve your workflows. 
Proper support at crucial stages of each project allows you to take on more clients without sacrificing work/life balance! Having the resources you need to achieve growth will help you gain greater confidence in yourself. You'll be set to achieve immediate improvements in your business.   
Strategize!
Strategy creates a path with a clear destination. And it can apply to any aspect of your business, including:   
Pricing
A clear pricing strategy clarifies what a client can expect from your services. It allows you to be profitable and improve your systems and service levels. As a result of a clear and concise pricing strategy, you can allocate some of your profit to help your business grow.
Target
Identifying your ideal clients helps you create the marketing focus needed for meaningful connections with potential clients (those who recognize your worth and need you).
Marketing
Marketing strategy ensures your marketing efforts reflect who you are and what you offer. You can clean up your social media platforms and adopt a schedule that keeps your messaging on brand. A strong marketing strategy aligns with your plan and creates credibility to establish your worth. And it helps you reach the right clients – those who understand your value – so you achieve profitability.

 

Each strategy is executed with a focused plan that gains traction to achieve your goals. 
Summary
When you set out your plan, you can organize your resources to meet the goals of your strategy. You become more confident in your abilities, empowering you to become a better designer and earn your worth. As a result, you achieve immediate improvements in your interior design business. 
If you're ready to stop spinning and start winning, join The Confident Interior Designer Membership Site with over 100 videos, trainings, and downloads. The Membership Site strategically addresses every area of running and growing your business – including those I mentioned in this blog – so you can become more profitable.  
These proven strategies and techniques can be implemented immediately. So, click here to get started today! And for daily inspiration, lessons, and thoughts, hop into my private FB group, the Interior Design Business Forum. Let this community help you become an actionable entrepreneur!!