I think we can all agree that the business world of today does not have a shortage of challenges, especially for entrepreneurs. How can Interior Designers work smarter, not harder? Achieving a healthy work/life balance can seem practically impossible. But trust me – there are solutions!  
Let's discuss some ideas and a few key processes you can implement that will help get you started. Luckily, resources abound these days for entrepreneurs. And they can help you find the balance you need to work smarter and keep your sanity. 
Plan
It Out
Do you have a solid business plan in place? It may feel like you don't have enough free time to even think about putting together a business blueprint. I get it, I really do. But let me stress the importance of having a strong foundation that supports your entire business!  
By simply taking the time to document where you are, where you want to go, and how you plan to get there, you will have less chaos in your life. And fewer items will "slip through the cracks." Good planning and organization will keep you moving forward rather than constantly putting out fires.
By building your business on stable ground, you'll have more confidence in your current focus and greater clarity in your future direction. This is a key component of working smarter!

Look… a Squirrel!
Another way for you to work smarter, not harder is through eliminating distractions. This includes getting rid of unnecessary clutter in your workspace. Get organized! Find a place to file all those notes and pieces of paper that you don't need right this minute, but that is easily accessible when you do.   
It also means being disciplined and staying on the task at hand. While you're working, keep a pad nearby where you can jot down those errands you need to run, items you want to shop for, or friends you want to reach out to as they pop into your mind. Keep your thoughts focused on the current task so you can complete it and move on. 
It's also helpful to take a moment each day before you begin working to declutter your thoughts. Whether you prefer meditation, journaling, or a punching bag, use that tool to help rid any negative feelings you're dealing with. And pivot your thoughts toward the things that are most important to you professionally. Those are the things that need your attention for working toward success.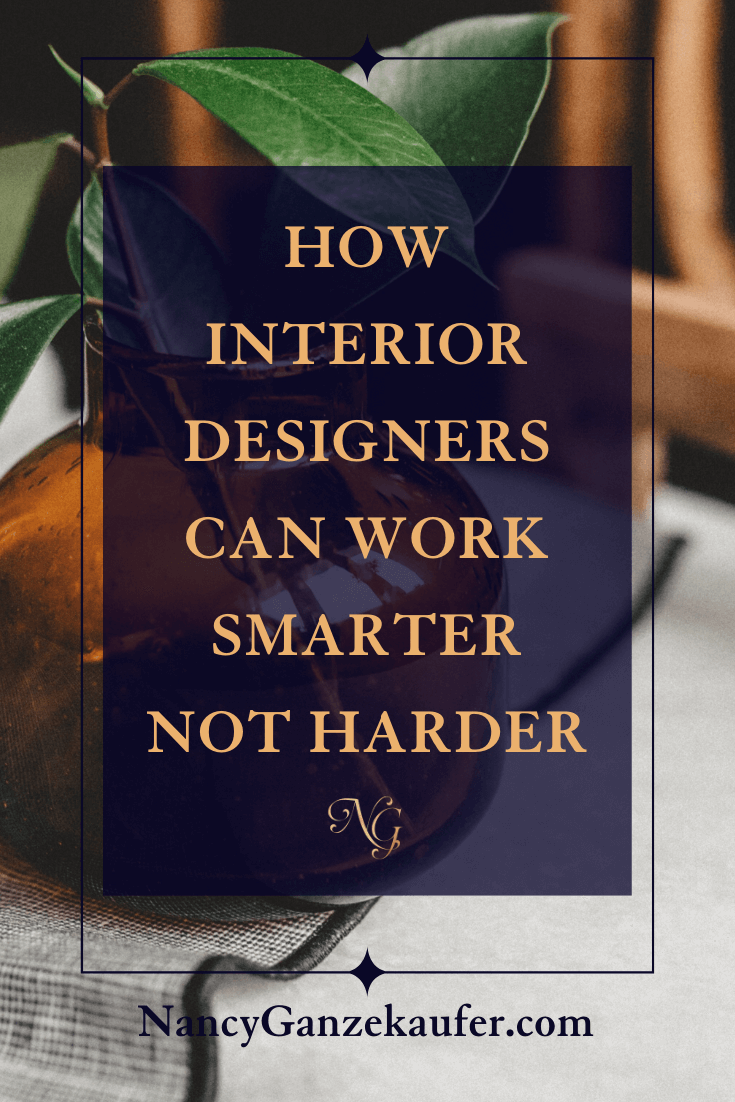 Good
Tim
ing
Learning to efficiently manage your time is a great way to work smarter. And while basic tools (calendar, to-do lists) can help, many other components go into effective time management. But having an organized schedule is a good place to start, along with a task or project list, ordered by level of priority. 
It can be tempting to take on tasks and projects that you don't have adequate time for, especially when you're in the earlier stages of building your business. But in the end, it's much better to have a few well–done, timely projects completed than a flurry of projects that don't put your best foot forward.
That list of priorities is vital in this situation. It allows you to be honest with yourself and others about your time constraints. And you can also use the list to work more efficiently by determining the tasks you can delegate to others. 
Hand it Off
For many entrepreneurs, one of the hardest things to do is to hand off tasks to others. But it is important to let go of repetitive or time-consuming tasks and keep your focus on the things that are vital to the growth of your business. There are a couple of ways to go about it. Start by figuring out what your biggest disruptions are – the ones that prevent you from having a smooth, productive workflow.  
Are you spending a ton of time sending the same emails over and over to prospective clients? Or maybe you're constantly making social media posts, answering the phone, or scheduling appointments? Whatever those tasks are, most of them can be automated. Without a huge investment of time or money, you can find programs that can handle many of your administrative responsibilities. And sometimes you for free.  
Another option is to hire an assistant. The number of virtual assistants (VA) in the workforce today has been skyrocketing, which is great news for entrepreneurs like you! Unlike payroll employees, VA's only charge for the hours they actually work and they have various rates based on their commensurate experience. Many sites allow you to search for VA's with experience in the specific skill sets you need, so no need for extensive training. You'll save time and money – now that's working smarter! 
Summary
With a little organization and ingenuity, you will find a much healthier work/life balance. By implementing a few of these ideas, you will regain your focus and increase your forward momentum. And productivity and organization will replace your chaos.  
Once you've delegated a few of those jobs that are taking up way too much of your time, you'll probably find that you can breathe a little easier. Even better, you'll be able to shift your attention to the parts of your business that truly deserve your time.
Start today so you can work smarter, not harder. You'll see the impact reflected in your pipeline, your business growth, and your overall success! 
You don't have to do this alone! If you're overwhelmed and need help, sign up for a business strategy session and I'll help you make decisions on the next steps for you and your business.   
Hop into my private FB group, the Interior Design Business Forum here to get my daily inspiration, lessons, thoughts of the day, and let the community help you become an actionable entrepreneur!!