As an interior designer, you may have started your business as a "solopreneur" or with a small team, serving a limited number of clients. However, as your business grows, that solo work or tiny team may not be enough to support new clients. As a result, scaling for long-term success is essential for the sustainability and profitability of your business.  
Scaling your interior design business requires a strategic approach. It should be handled with some careful thought. It's best to grow at a reasonable pace so you can manage your growth without compromising the quality of your work or facing financial strain.
Here are a few tips to help you scale your business for long-term success.
Create a Solid Business Plan
A comprehensive business plan will help define your business goals, determine your target market, and set a realistic budget. This written document is crucial to outline what your business does, the goals you want to achieve, and how you plan to achieve them.  
Although you might have this information in your head, creating a document formalizes your outline and creates a guiding light to keep you on track. It's also helpful in identifying potential challenges to lon-term success and windows for growth. With your plan in writing, you can more easily identify strategic opportunities to trigger scalability and recognize challenges that create roadblocks to success.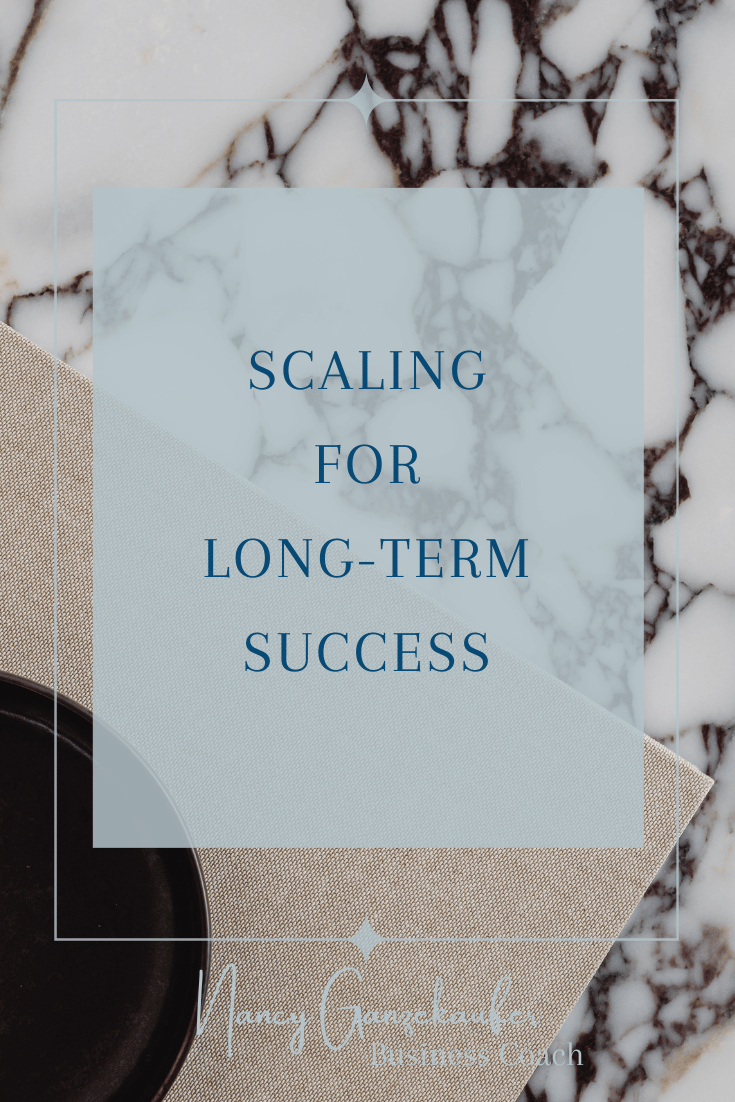 Build a Strong Team
As your business grows, you'll need additional staff to help you manage the workload. Hiring talented and dedicated employees is crucial for scaling your business successfully. It's easy to get into the mindset that says you have to do it yourself if you want it done right.   
But expanding your team allows you to benefit from the expertise of others. You can reap this benefit even if you just start with one reliable person who simply runs errands a few days a week. As a result, you can shift your focus toward gaining clients and creating meaningful designs.
Establish Efficient Processes
Streamlining your workflow and creating efficient processes will help you manage your resources effectively. It will also lead to a reduction in errors and an increase in productivity. Outlining your standard operating procedures (SOPs) can help generate more efficiency.  
By establishing the steps of repetitive processes, you can determine which time-consuming tasks you can delegate to others. You can also explore workflow software to automate those tasks to save money and improve profitability. And with a little research, you'll find there are many options that won't break the bank.
Focus On Marketing
To grow your business, focus on marketing to help you broaden your audience reach and create brand awareness. There are many ways to use organic, inexpensive marketing techniques to accomplish this on a budget. For example:  
Sharing your work and design trends on social media 

 

Clarifying and publicizing your brand story and your process 

 

Creating a gallery on Pinterest  

 
These are just a few simple tactics that allow your work to shine.
Summary
Scaling your interior design business for long-term success requires planning and dedication. By following these tips, you can create a sustainable business that can withstand growth challenges and thrive in the long run.  
To find the unique solutions you need to create a scalable, sustainable, profitable business, check out Profit Insiders Academy. This high-touch, individually tailored group coaching program gives you the tools and strategies you need to cover all the bases in YOUR business.  You will gain next-level knowledge around pricing, marketing, mindset, client communication, sales, financials, and much more.  
Empower yourself and your business with the Profit Insiders Academy. Apply for free today – you have nothing to lose and everything to gain!