A well-crafted website is beneficial for any business – I'm sure you agree. But maximizing its ability to help grow your interior design business requires a bit of message mastery. How, exactly, do you create web copy that attracts the clients you're looking for (and keep them engaged once they visit)? 
Your website allows you to share your knowledge and expertise with the world. Don't squander that opportunity with worn-out, lackluster content. I recently spoke with Masha Koyen of Content Vertical, a copywriter and a messaging strategist for interior designers. She shared her expert tips for using web copy fundamentals to attract and convert your dream clients.
Know Your Audience
| Using audience insights to spark a connection 
Before you write the first word of copy on your interior design website, it's essential that you truly know and understand your audience. For example, what motivates and inspires them? What challenges do they experience? How do they make decisions?    
Often, you can gain insight through a simple, informal conversation. When she writes web copy for her design clients, Masha suggests reflecting on your initial consultations or discovery meetings. Look for patterns among the insights your clients share during those conversations. You'll frequently find your answers in the clarifying questions they ask or the emotional statements they make when communicating their vision for their home. Pay attention to these insights and use them in your messaging! 
Establish Your Brand Voice
| Defining a distinct brand personality 
Establishing a brand that encompasses who you are and what you do is essential. Your brand is more than your logo, fonts, and colors – the visual side of your business.  Much like you, your brand has a unique voice and personality.
It makes you different. It makes you stand out in a sea of sameness from other interior designers.   
 Your brand voice helps you communicate with your audience through consistent and distinctive tone, language, and personality. It is both the "what" and the "how" you communicate – through words – reflecting your values, purpose, and goals. When done right, your brand voice has the power to build a relationship and an emotional connection with your customers. 
Steal a few of the following questions from Masha's "done for you" web copy process. They're worth reflecting on! Use these questions to inspire your own distinct voice in that chorus of others! 
What kind of tone do I want to set in my communication with clients? 

 

Do I want to come across professional and formal, or more relaxed and approachable?

How do I want my clients to feel when they work with me? 

 

Should they feel inspired, supported, confident, or something else? 

 

What are my recurring themes (a.k.a. pet peeves, favorite brands, people, or TV shows) – things that I often mention in my messaging?
Articulate Your Differentiator
| Curating your secret sauce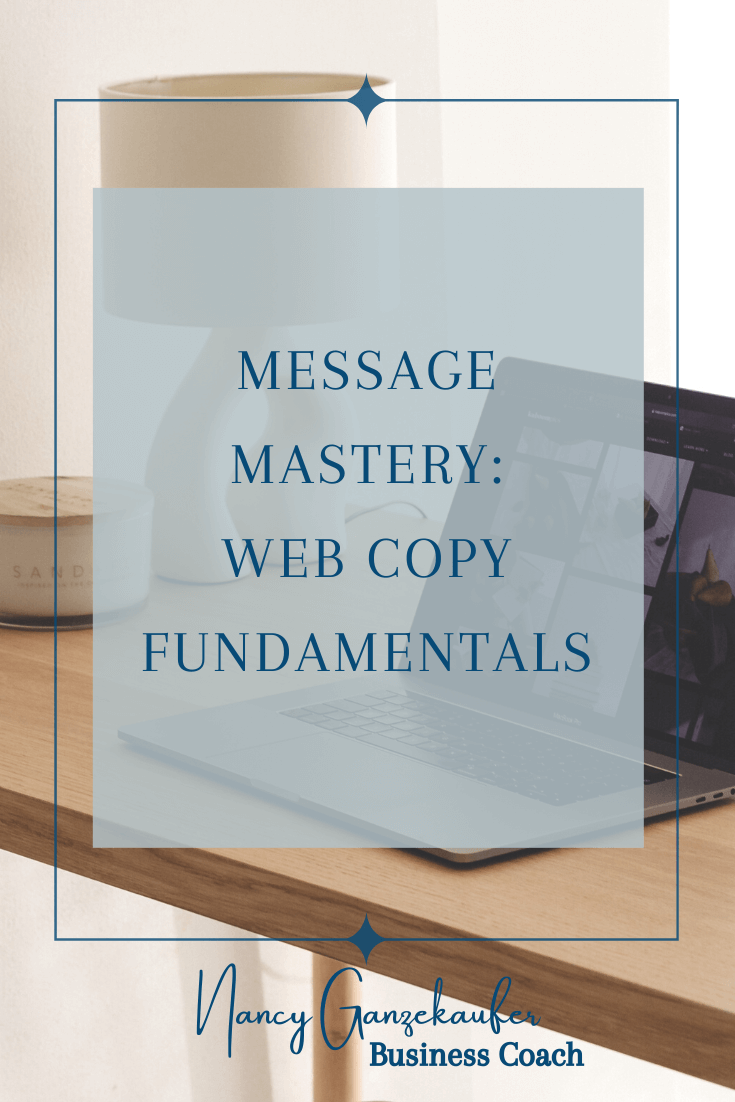 It's important to determine what makes you different from other interior designers. That differentiator is your recipe for curating your secret sauce. And that's where the magic begins!  
Do you have a specialized niche (kitchen and bath, window treatments, spaces for families with children, etc.)? You may use a unique style or flair in your designs. You could have a streamlined process that sets you apart from other designers. According to Masha, your process is one of the most underrated ways to differentiate yourself!   
Declutter Your Copy
| Keeping it clean and precise 
You know what they say: less is more. This way of thinking is almost always accurate for web copy (or any content for your business).   
As a rule of thumb, remove any unnecessary information. Avoid words that don't add value. More importantly, be intentional and genuine with your message, and ensure clarity above all!
People have a way of sniffing out "fluffy" or "fake" content.
Incite Engagement
| Creating a call to action 
Your website message aims to guide your visitors to the next step. It's best if you don't assume they know where to go next. A call to action (CTA) is the best way to communicate this.   
Your CTA lets your visitors know the best action to take next. Do you want them to subscribe to your newsletter? Book a consultation? Follow you on social media? Wherever you lead your visitors, provide them with value – they'll be encouraged to stay in your world. Always be clear on the next steps!  
Summary 
These are just a few web copy fundamentals to create effective and strategic website content that resonates with your ideal audience, ultimately attracting and converting them. What if writing is not your favorite thing? You can achieve message mastery by enlisting the help of a web copy expert like Masha of Content Vertical. She has an in-depth understanding of the interior design industry.   
Using her strategic 6-step REVEAL framework, Masha produces data-driven, brand-elevating copy for websites, emails, and blogs for interior designers. You can book a complimentary 30-minute consult with Masha to achieve message mastery in your own business.   
You can also hop into my private FB group, the Interior Design Business Forum, to get my daily inspiration, lessons, and thoughts. Let this community help you become an actionable entrepreneur!