I'm Nancy. As a business coach, I help clients tackle the tough challenges in work and life. My specialty is sales coaching for growing entrepreneurs.
Next level growth happens when you learn to lead your own business and your own life.
YOU MIGHT BE SEEKING A BOOST IN INCOME OR SIMPLY A BOOST IN CONFIDENCE AS YOU BUILD THE BUSINESS AND LIFE YOU DESIRE.
Stepping out of the whirlwind to get that outside perspective, expertise and guidance can help you reframe your fears and focus on a greater vision for you and your business.
You've got a lot to deal with – we all do. From clients and sales to balancing work and life, to guiding your business. You don't always have time to invest in yourself or your growth.
LET'S GET HONEST, GET OVER THE FEARS, GO FOR WHAT YOU REALLY WANT – IN YOUR BUSINESS, INCOME, RELATIONSHIPS & LIFE.
GETTING TO THE NEXT LEVEL MIGHT FEEL OUT OF REACH. KNOWLEDGE, CLARITY AND ACTION ARE THE PIECES YOU MIGHT BE MISSING.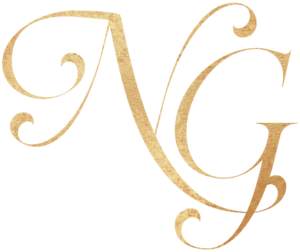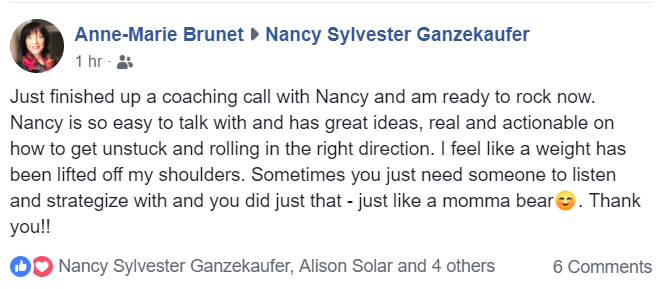 Blog excerpt:
"I'm going to introduce you to someone who's changed my professional understanding of my business goals, opportunities, and clientele in the little more than the year that I've known her.
Who is she you may ask and what does she have to do with renderings, design, and quite possibly my even more narrowed specialty of Chief Architect and Home Designer training? My colleague, mentor, and COACH is Nancy Ganzekaufer, Business Coach to Interior Designers.
So here's the truth, my business wouldn't be where it is today without Nancy's guiding hand and accountability.
Prior to hiring Nancy I was charging almost 50% less than what I am now. I'd prided myself on helping my clients and rationalized that their gratitude was an equatable difference in my less than adequate original rate.
Now, my CPA even noticed that my profit had more than doubled what it was a year ago. Not only that, but I'm trusting my instincts more. So in all honestly if you're an Interior Designer and you're looking to grow your brand, learn more about yourself, and all-in-all just become more confident as a person, don't hesitate to hire Nancy. (Click here to read full blog post)
KELLY FRIDLINE
Kelly Fridline Design
"I highly recommend having Nancy speak at your next event, you won't be disappointed. Not only was the topic of the Keynote relevant and on point, but Nancy is an engaging speaker.  We only wish we had more time to learn from her." 
Courtenay Lindsey
President of Interior Design Society
Working with Nancy has been the best business decision I have made this past year! Her clear, confident and 'it-is-what-it-is' method is fabulous. Nancy is always straight to the point and is a completely no-nonsense teacher. Her D.E.S.I.R.E formula is on point and implementing ideas like the Welcome Packet and the Niche is Rich method of defining ideal clients has helped me tremendously. As I continue to learn from her, I highly recommend Nancy to anyone looking to grow their business and thrive!
Meera Thomas
Interior Designer
Last month was my most profitable month EVER...
Leslie Myrick
Lesley Myrick Art + Design
Hi Nancy!
I wanted to send you a quick note to let you know I got that big job we spoke about at our last session (yippee!). I used many of the techniques you coached me on and they really helped me to be more confident and professional.
Thank you for everything you do, I'm so grateful to have you as my coach.
Looking forward to our next session. Have a great week!
Cheers,
Nicole Cole
Interior Designer
Vestige Home
http://www.vestige-home.com/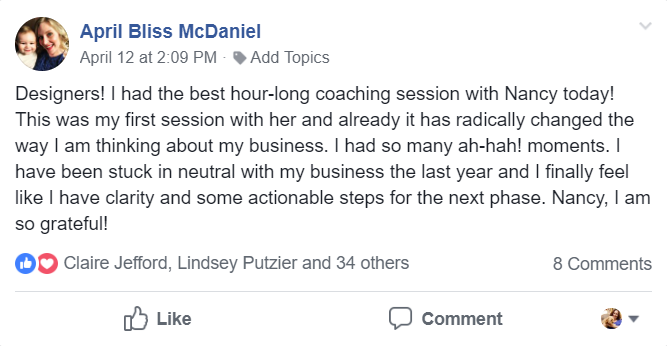 Hey Nancy! I could almost cry I am so happy.
I know this totally sounds gimmicky but I truly just closed the largest project of my career thus far. I have you and God to thank!
I got together a whole marketing packet even ordered gold paper clips. I knew they had the money to afford me, but they are very frugal people. So, I didn't know if they would bite the bullet and do it... but they want to hire me for four rooms and their massive entryway. It's a brand new home probably ($3 million) right on the water in the most affluent area of town.
So many of the points you made have really resonated with me. I'm doing those classes now from you too that have been tremendously helpful. So grateful for you!
Nicki Walworth
Designer/Owner at Juxtaposed Design
So, I'm in my third month with Nancy by my side. Implementing her processes has made all the difference...organization, innovation and confidence! 
"Step by Step Through Design Process," located in her Members Only site, has been a game changer. I personalized it a bit and landed an awesome project because the clients thought it was so uniquely detailed. They felt like they would be well taken care of, which was music to my ears.
Lori Sain Smith

 
Interior Designer
...the best money I ever spent!
Darci Hether
Principal Owner / Designer, Darci Hether, New York
http://darcihether.com/
Without Nancy's coaching and support, I wouldn't have just closed on two new clients, and who fit my target, with cheques in hand, in one week. Because of her, I walked into those client consultations confident and prepared they would be both excited and relieved to be working with me – a genuine expert who could help them with what they were struggling with.
Saree Parry
Interior Designer
Decorating Den
http://saree.decoratingden.com/
Giving a shout out to Nancy Ganzekaufer – if you have not scheduled a one-on-one coaching session with Nancy, you are not giving yourself the treatment you deserve. Nancy is incredibly insightful and a terrific listener. I am so happy with the coaching she has provided me. Nancy, You Rock!!
Barbara D'Aquino
Transformation Business Coach
https://www.debbiedaquino.com/
With Nancy's guidance and encouragement, I have grown to be more assertive. I recognize my abilities and value more readily. I am grateful for how far I've come and how far I will go in my bright future. Thank you, very helpful knowing I'm not alone.
Mary Nolte
Color Consultant
Kaleidoscope Color Consulting
http://www.kaleidoscopecolorconsulting.com/
Six months ago I hired Nancy to be my business coach. Truly, one of the best decisions I have ever made. I am so happy with Nancy and her coaching – thank you, Nancy! Nancy has helped me focus, sharpen my decision-making skills and reduce the time it takes for me to make important decisions and commitments. My business expansion plans are well under way and I am working at an accelerated pace to ensure my business has everything it needs to succeed at a new level.
Bonnie Reich
Symmetry Designs, Inc,
https://www.symmetryclosets.com/bonnie-reich/
I just need to tip my hat to Nancy Ganzekaufer once more. Every time I have a meeting with her, I come away with something tangible that I can action straight away and make my business better. Today, I was able to make a clear decision to stop a part of my service which I realized just doesn't make business sense - not profitable enough, sucking up a ton of my time, causing me unnecessary stress, and preventing me from focusing on and making other parts of my business more profitable (thanks, Nancy!).
Itohan Ellis
Red Orchid Designs
Residential Interior Design
https://www.redorchiddesigns.com
I have been working with Nancy for about 6 months. Nancy is a very caring individual that truly want me to succeed. I always feel "recharged" after my sessions with Nancy. She never ceases to amaze me with her energy and more importantly her knowledge on how to promote myself and my business. I would highly recommend having Nancy as your business coach!
Barbara McNally
Interior Designer
Design Views Interiors
http://www.designviewsinteriors.com/
Nancy really helps me crystallize my goals and vision for my business and
encourages me to challenge myself. I just looked at the goals I set when I
started with Nancy 5 months ago. I've already tripled my quarterly goal
and I'm three quarters of the way to my annual goal. Time to reset some
goals!I love Nancy's straightforward style, the business experience she brings
from her life in finance and her perspective as someone who has been in
the design world for many years and understands our unique business.
It's only a pleasure to work with Nancy and I can certainly say my business
has reaped the rewards.
Andrea May
Andrea May Interiors
Interior Design
http://andreamayinteriors.com/