I want to talk a little bit about being very precise with your social media time! One of the things I've shared with my group and with my one on one clients, is how I (every once in a while), get on this crazy path when I go on my social media! I don't do it with intention, I just sort of wander around Facebook or Instagram too long!
Even though I am an interior design business coach, I had to coach myself on this one!  What I've done recently is I've made myself a little plan to help me manage my time on social media! For example, 10 minutes on Facebook feed, liking and commenting.
BREAKING DOWN THE 10 MINUTE RULE
I don't just stop with Facebook, I transfer it to other platforms available. 10 minutes on LinkedIn, liking and commenting and sharing, and 10 minutes on Instagram, Pinterest, Facebook Live, and connecting with influencers. In other words, it's very distinct planning on how I use my time on my social media. And I make those decisions based on what has brought me business in the past.
You want to always make sure you ask your clients, can I ask how you found me? It is really important for everyone, no matter what you do, to find out where people are coming to you through!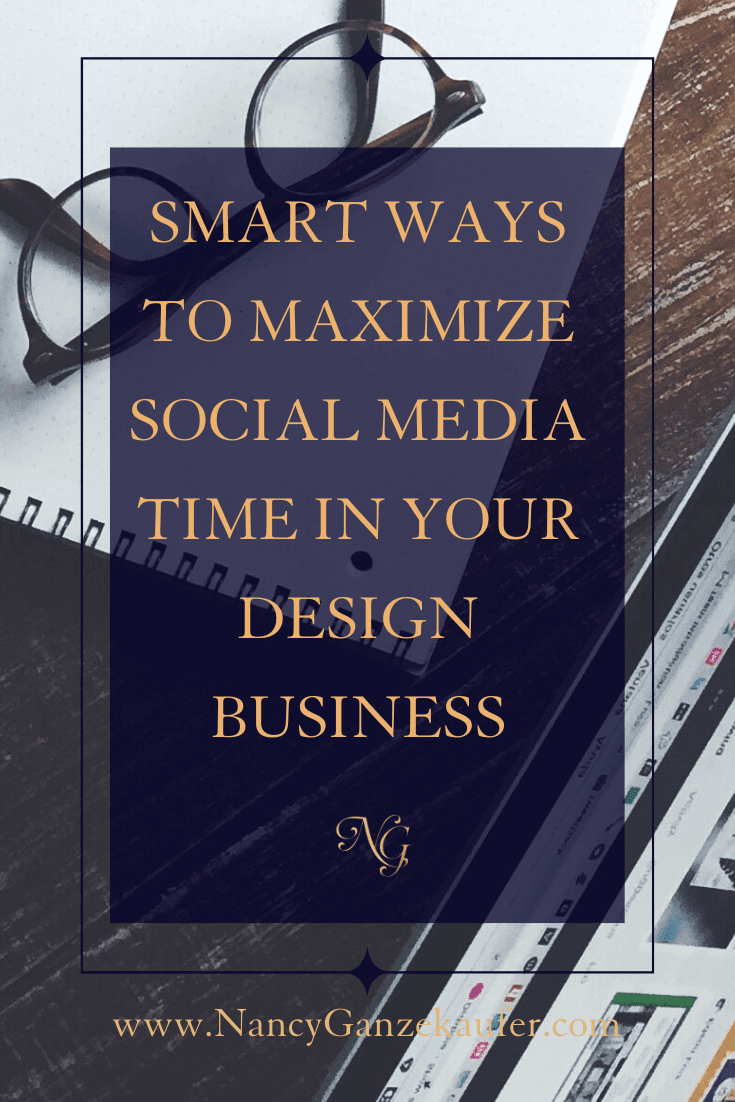 You need to know what avenues so that you know how to spend your marketing time.
HOW OTHER PEOPLE ARE DOING IT
A while back somebody posted on my Facebook timeline on my personal page, for my birthday! They said, "Happy Birthday, Nancy, your big day is rapidly approaching". He said a few other things and then lastly, included a link to his website.
At first, I was like, Huh?!! But then what did I do?
Yep, I did it. I clicked on his website. I found out he's an insurance guy. I mean, how ingenious was that? He's a friend on my Facebook page. But I don't really know him. I could see why, in a way, that he was implementing a plan to actually use his social media time.
Distinctly, he knows that every day, he probably goes on and looks to see whose birthdays are three or four days ahead. He's the first to post on their wall a very nicely worded Happy Birthday message with a link to his website. I thought that was pretty smart.
TAKE NOTE OF WHAT CATCHES YOUR EYE
I always take note of what catches my attention.  I want you to take note of what emails you open. Why did you open them? Was it the subject line that caught your attention? What I like to do when that happens is I cut and paste that subject line. Then I put it in a document I designed for the future, for inspiration. Perhaps, that is something you could do!
If when I'm scrolling Instagram, and I stop at something that catches my eye, I start to try to take note. Why did I stop? What makes somebody stop? When you're trying to figure out what makes somebody click, you always start with yourself. Why? Because often your ideal clients are like you.
These are things that I always look for, the tricks and the new ways of marketing. What's making me stop, pay attention, and want to click on something?
I hope you are doing the same. It's part of being present in the moment. Figure out what's making you stop and what's making you click. What's making you listen – what is it and maybe that's something you can implement in your own business.
Overwhelmed growing your business and need help? You don't have to figure it out all alone anymore. Sign up for a business strategy call and I'll help you make decisions on the next steps for you and your business.
Hop into my private FB group the Interior Design Business Forum here to get my daily inspiration, lessons, thoughts of the day and let the community help you become an actionable entrepreneur!!