There are many things to keep up with in business. Several things can fall through the cracks and you can keep on truckin' easily. However, there are certain things that you must NOT let fall through the cracks. In this blog post, I will spell out six "must do's" to keep up with on a yearly basis.
These are all very important for the longevity and growth of your interior design business.
1.  Assess and Adjust Business Plan
A lot can change in a year with your business. One thing you don't want to do is roll into the next year, not fully understanding what worked, what didn't work and how to expand for the coming year. You want to make the proper tweaks to make sure you go into your next year, leveraging the best parts of your business plan while letting go of what didn't work.
2.  Schedule a Trip to One of the Designer Markets
When you work so deep and focused on your business, it can leave little time to explore avenues that provide inspiration! Going to a designer market could be exactly what you need to provide some inspiration and fresh ideas to add to your business. Also, just being in an environment with like minded people can be the biggest tool in moving your business forward. Sometimes just networking with ONE person can make a big difference in how your business shapes up for the following year.
3.  Meet with An Accountant
The things you might tend to miss in the realm of financial accounting for your business, a true accountant won't. You need to measure and plan your business on truth and fact – not loosely estimating what's really going on. The foundations of your interior design business need to be as stable and accurate as possible.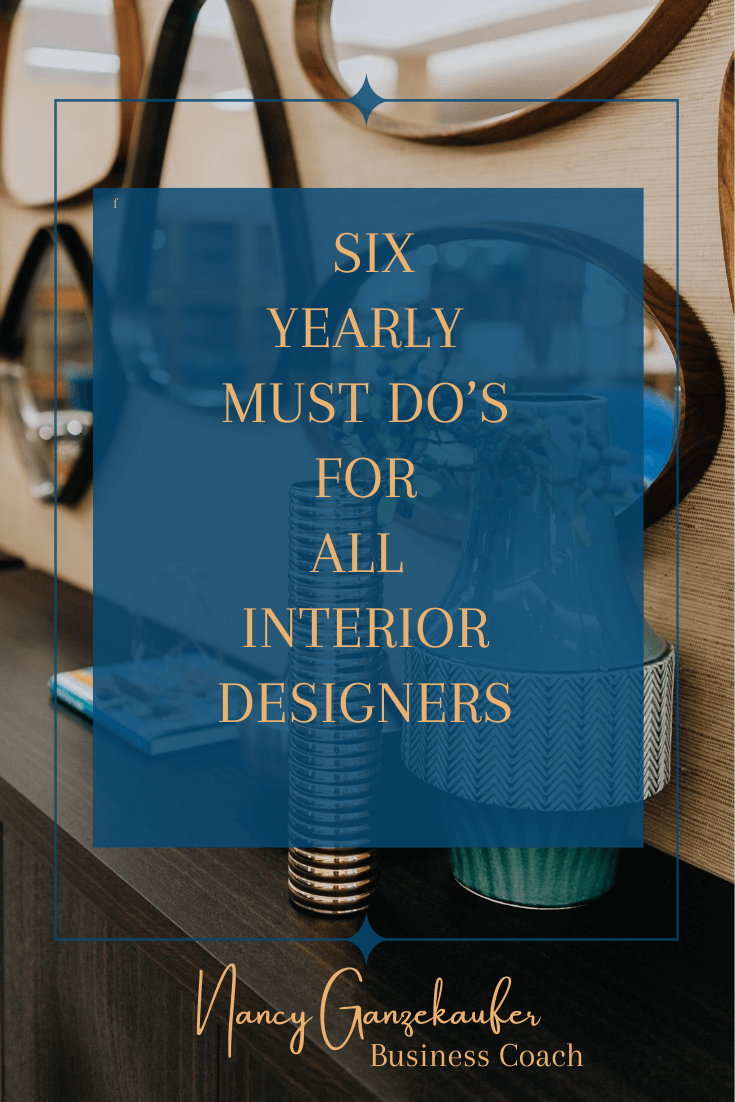 4.  Bring Your Contracts Up to Date with a Lawyer
As your interior design business grows and expands, so do the legal workings and implications. Once a year, it is a good idea to set a time up with your lawyer to make sure you're not missing anything. Also, since by now you have already tweaked your business plan and are pretty solid on projections and goals, your lawyer can take all that to heart while bringing your contracts up to date.
5.  Review All Expenses and See What Can Be Eliminated
It's easy to stack up expenses on extra things you intended to use to make your life easier as a business woman or business man. However, have you really used those services or softwares as much as you thought you would? If you feel kind of indifferent about some of those, it might be time to cut those out of your expenses.
6.  Update Website with New Work
Your website is one of the main hooks in securing new clients. When potential clients are deciding which interior designer to go with, they will often return to a few websites several times before deciding which one to settle on. One major selling point could be that you regularly update your website with new work and new testimonials. You never want to appear obsolete, just because you forget to update your website on a regular basis.
I hope these were solid reminders of what to turn your attention to on a yearly basis. As always, I want to hear what you think. What time of the year do you tend to focus on these tasks? What have you found most beneficial?
Are you overwhelmed growing your business and need help?  You don't have to figure it out all alone anymore. Sign up for a business strategy call and I'll help you make decisions on the next steps for you and your business. 
Hop into my private FB group the Interior Design Business Forum here to get my daily inspiration, lessons, thoughts of the day and let the community help you become an actionable entrepreneur!!