Managing an interior design business has many demanding components! One component that will never go away is the need to manage client expectations. Read this blog post as a guide or even a checklist to help you strategically manage client expectations.
You work in a pretty cool industry, right? You get to live in a world of color, art, fabric, and neat collaborations. People viewing your lives from the outside may think you have such an ideal career. In a way, I agree with them!
The one part that they don't see (which you all know too well about) is the challenge of managing client expectations! That part is not always so dreamy.
I don't know if there's a blanket formula to help you all get better and more strategic about managing your clients. However, if you are struggling, in this blog post I will post the first 5 ways to help you manage client expectations better!
So, take your notes, and let's get orderly about this subject. Hey! If you have some ideas of your own, feel free to comment below with a tried and true solution that works for you.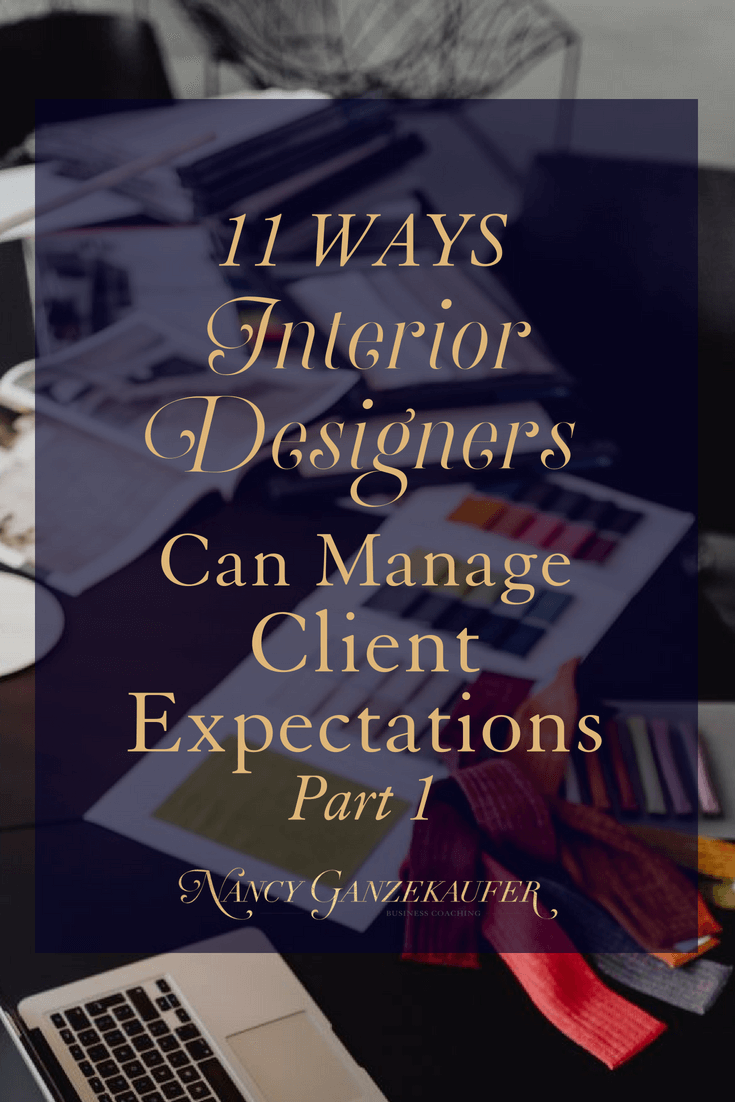 11 Ways to help you manage client expectations 
1. Charge for an initial consult 
What people have to pay for they value more!  Not only that, but they take YOU more seriously. When you have a worthy cost attached to your time, they perceive your services as premium from the beginning.  I speak often about this issue in my private FB group The Interior Design Business Forum. If you haven't joined me there yet, please do by clicking here.
2.  Meet with all the decision makers 
One of the things that can be frustrating and confusing is not having all the decision makers present for the first consultation. It is hard for everyone to be on the same page.
As the leader of the pack and the expert called upon, do your best to get everyone together at the same time! It will save you and everyone a lot of unnecessary back and forth explanations, confused expectations, and any other thing that has the potential to go wrong!  Designing for the sexes can be difficult enough, make it slightly easier by having all decision makers present right from the beginning.
3. Be detailed about the process 
Do you have a charted-out plan? Do you have a process funnel that is very clear for your clients to understand? Even if you can verbalize each step rather clearly, there is no guarantee that your client will remember or fully understand the scope of your process.
It's best to have a tangible document detailing your step-by-step process.
4. Clear communication guidelines  
Do your clients know how you want them to communicate with you? Do you know their preferred ways of communication? There is nothing more frustrating than sending emails that don't get read because your clients prefer texting!
Decide together the best way to communicate and have those guidelines in your Welcome Packet or Letter of Agreement.
5.  Use detailed questions 
Let's say a client wants to re-decorate their living room. A general question might be, "Why do you want to re-decorate your living room?" This is not a bad question. Knowing the why behind someone's actions can be very helpful!
However, if you want details you have to ask detailed questions! Some examples would be "What do you love about your living room now?", "What do you hate about your living room?", "What colors would you never want to see in your color scheme?" The more detailed you can get with your questions the more specific information you'll get.
If you would like to continue with Part 2 in this two-part series, click here to gain access.
Overwhelmed growing your business and need help? You don't have to figure it out all alone anymore. Sign up for a business strategy call and I'll help you make decisions on the next steps for you and your business. 
Hop into my private FB group the Interior Design Business Forum here to get my daily inspiration, lessons, thoughts of the day and let the community help you become an actionable entrepreneur!!