How can your Interior Design business benefit from process improvement?  How do you even know if your Interior Design business needs process improvement? Well, for pretty much any business, the answer is a resounding YES, it does.   
First of all, there is always room for improvement, regardless of your current level of success. Finding new ways to grow your business should consistently be your goal.
To get a little deeper in the weeds here, do you ever experience… 
Frustration because you can't find a document or your notes?

 

Client or vendor billing errors?

 

Confusion when trying to duplicate a process?

 

Annoyance locating a client's contact information?

 

Stress because you need THIS information OVER THERE?

 

Downtime because your system is slow? 

 
Trust me, we've all been there. The question is, what can you do?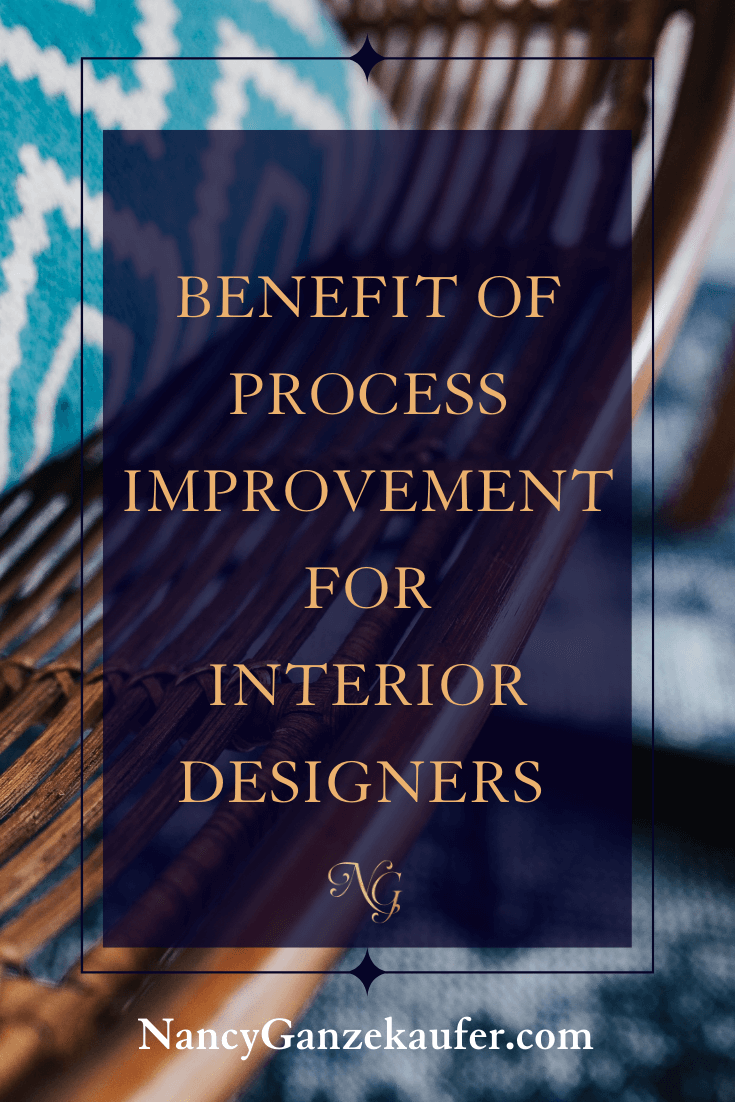 The answer is… you need to review and improve your processes, and you need to document those processes.  
I know, I know. I don't enjoy it either. But it really is a vital step in growing and maintaining a successful Interior Design business. The good news is that implementing more efficient processes brings with it a long list of benefits for your Interior Design business. 
Your productivity will go up, and your daily workload will shift to a growth mindset rather than simply treading water.  You'll enjoy more free time because your work/life balance will improve. And the time you spend working will be more streamlined.  
Spending less time on repetitive tasks, putting out fires caused by careless errors, and eliminating exhaustive searches for information will help you feel more positive. You'll be more organized and should see higher levels of client satisfaction. Overall, your Interior Design business will have the tools needed to thrive even in challenging times. 
Increase Productivity
A survey conducted by Atlantic IT found that people spend an average of 520 hours each year completing tasks over and over again. Just think about the long-term cost of all those wasted hours!  
Do you or your team spend time filling out forms? Running reports? Sending the same emails over and over? How do you track what has been completed and what still needs to be done? And do all your team members have access to that? Do you have an online calendar for clients to set appointments? A way to accept payments online? 
Take inventory of the tasks that swallow up your time. Determine if some (or all) of them can be automated. Take into consideration the upfront cost of any programs as compared to the long-term savings potential for your business. Automating (thus eliminating) mundane and repetitive tasks keeps you and your business growing and moving forward toward success!  
Avoid Costly Mistakes
We're all human. We make mistakes. But sometimes a very small mistake can be very costly to your Interior Design business. These days, the consequences of a mistake can put a pretty big dent in your profit margin.  
A few examples:
Sending the wrong email to the wrong person can result in a privacy violation.

 

Charging the wrong price can result in an unsatisfied (or lost) client.

 

Missing an appointment with a prospect can cost you a sale. 

 

Sending an email with a misspelled word can project an unprofessional image. 

 
We're all going to continue to be human, so what's the solution?  
Well, you can start by standardizing your processes. Create Standard Operating Procedures (SOP) that you and your team can use to make sure you're all on the same page and to cut down on learning curves for new team members. Find a program that lets you create templates for emails you send over and over. Set up a program to house detailed descriptions of all the services you offer and their related costs.  
With just a little time and documentation, you'll be surprised how much easier things can be! There are so many programs available today – some at no or low cost to you – that can help automate a large chunk of the processes you have as an Interior Designer.  
Find Your Starting Point
Put those internet search skills to good use! Instead of spending your downtime on tasks that don't impact your profit margin, find a program (or three) that can help you. If you're scratching your head wondering where to start, here are some ideas for you. I use several of these myself! 
Process/Time Management: Asana | Trello  
Video Storing/Sharing: Searchie  
Landing Pages: Clickfunnels  
Password Protection/Sharing: LastPass  
Process Automation: Zapier 
Social Media: Buffer | Hootsuite | Tailwind | Canva
CRM/Email Campaigns/Business Management: ActiveCampaign | AWeber 
Appointment Setting: Calendly | OnceHub 
Payment Management: Stripe | Stunning
Spelling/Grammar Check: Grammarly  
Just think – once you take some of these time-devouring tasks off your plate, you and your team can shift your focus to sales, marketing, and client retention – the activities that will actually help grow your business.  
There's a large section on The Confident Interior Designer Membership Site dedicated to process improvement and time management. And for help with your social media efforts, I've got two free downloads – the Social Media Idea Generator and a list of 105 Instagram #Hashtags 
Let me know if any of the above suggestions help you transform your business into a well-oiled machine. I hope you try several of them out and discover the benefits of process improvement for your Interior Design business! 
Overwhelmed growing your business and need help? You don't have to figure it out all alone anymore. Sign up for a business strategy call, and I'll help you make decisions on the next steps for you and your business.  
Hop into my private FB group, the Interior Design Business Forum here to get my daily inspiration, lessons, thoughts of the day, and let the community help you become an actionable entrepreneur!!