Managing an interior design business has many demanding components!  One that will never go away is the need to manage client expectations. In the first part of this two-part series, I discussed the initial steps. Part two wraps things up with some additional strategies!  If you missed Part 1 in this two-part series, click here to gain access.
Part 2 – How designers can manage client expectations 
6.  Have a clear, easily understood billing and payment process 
Raise your hand if you like to present the billing process to your clients? Don't worry, no one really does, but it's a necessity.   
Make sure you have a section in your Letter of Agreement (aka, your contract) that details the payment plan your firm requires, as well as the types of payments you accept.  Will they have to make manual payments by check or, do you accept credit cards or bank transfers?
Whatever it is, make it clear!
7.  Detail scope of the project as discussed 
You had the initial consultation, great! Everything has been discussed and you have put all the details into a design plan with a scope of work you believe everyone has agreed upon!
Now, it is time to reiterate EVERYTHING!  Go over it in detail with your client to make sure all is understood on both sides. Be sure everything has been communicated thoroughly.  Get that final seal of approval (signature) from all decision makers.
8.  Manage expectations and deadlines regularly 
We all know that projects don't stay on course 100% of the time. It is a natural phenomenon for projects to need a shift or tweak in timelines and deadlines. If both parties are regularly discussing and informing the flow of timeline and deadlines, it keeps expectations on the right track.
9.  Over-deliver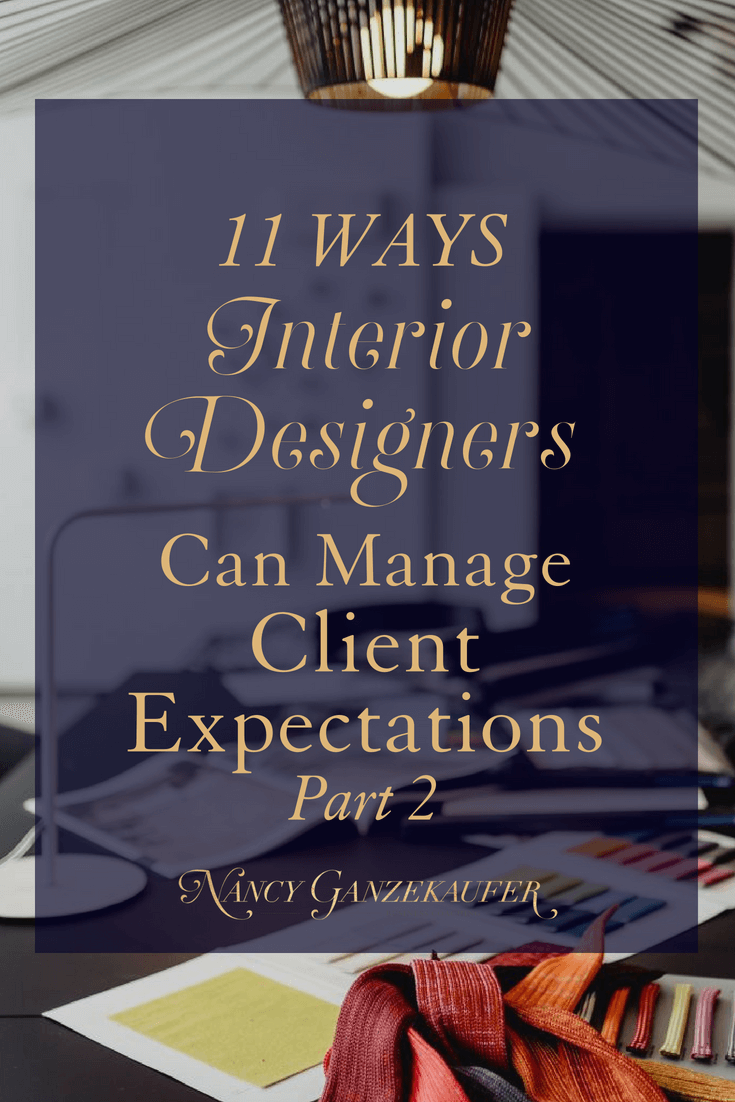 You know the service and duties you can do like clockwork.  The parts of your job that will be easy, breezy, and never go wrong. These are the things you present to your clients as part of your regular service.
Now, think, what are the unique things you do really well in your interior design business? What are the few ways you don't mind going the extra mile for your clients? These are your "over-deliver" methods.
These "over-deliver" methods can be used to surprise your clients throughout the whole process of them working with you.
Try this out!  Write down about 5 to 7 ideas for "over-deliver". Find a strategic way to weave in those "over-deliver" surprises to delight your client!
10.  Don't share your own personal drama 
There are some clients you will totally gel with. You may meet those who feel like a long-lost family member or best friend. The temptation will be to bring them into your personal world, sharing the trials and pains you might be going through.
DON'T DO IT!  No matter how comfortable you may feel, first and foremost they are your client. Your business should be a professional environment, so keep it that way.  
Though you may "feel" a certain connection, it doesn't necessarily mean they feel the same depth of connection (or desire to engage on that level).  They may be polite and receptive but it doesn't automatically mean they WANT to hear about your personal drama. They probably have enough of their own drama!  Be there for them, as any good interior design "therapist" would, but keep your own personal life ups and downs to yourself.
11.  Address obstacles as they arise, don't avoid! 
I know it's hard to stop your momentum and deal with the fires and obstacles that come up in your interior design business.  But it is necessary as you know.
Part of managing client expectations is to manage the things in your businesses that are "annoyances" without burdening your client with them when possible.  That's what they have you for.
You never know when one of those small annoyances can become a bigger problem so deal with them swiftly and as they arise.  Clients sense when things become out of order if you are not keeping a close eye and resolving issues as they arise. They may question if their project is in good hands! That is just something you can't allow to happen.
Overwhelmed growing your business and need help? You don't have to figure it out all alone anymore. Sign up for a business strategy call and I'll help you make decisions on the next steps for you and your business. 
Hop into my private FB group the Interior Design Business Forum here to get my daily inspiration, lessons, thoughts of the day and let the community help you become an actionable entrepreneur!!