So, you have finished interior design school or you have been working hard to expand your interior design business, BUT you are hitting a wall! You feel overwhelmed as you try to start your interior design business or grow what you've already built!
As you pull your hair out trying to figure out how the HECK to move forward, you realize the problem is not the LACK of information. No, instead it is information overload. You have read one too many blogs. You have followed way too many business gurus and have bought too many e-books and now, you have NO CLUE where to begin.
This is where I come in to be a ray of sunshine in your clarity. There are 150 ways or more to start or grow your interior design business. Let me tell you a secret… you don't need all of those ways. YOU need nine. Yep! Nine foundational steps (with some substeps thrown in there) to have a thriving interior design business, where you are profiting, not just getting by!
My Interior Design Profit Formula, which is a road map to success that I have followed in my past and current businesses — and followed by all of my successful clients as well — it works. It will simply give you results you're looking for and more!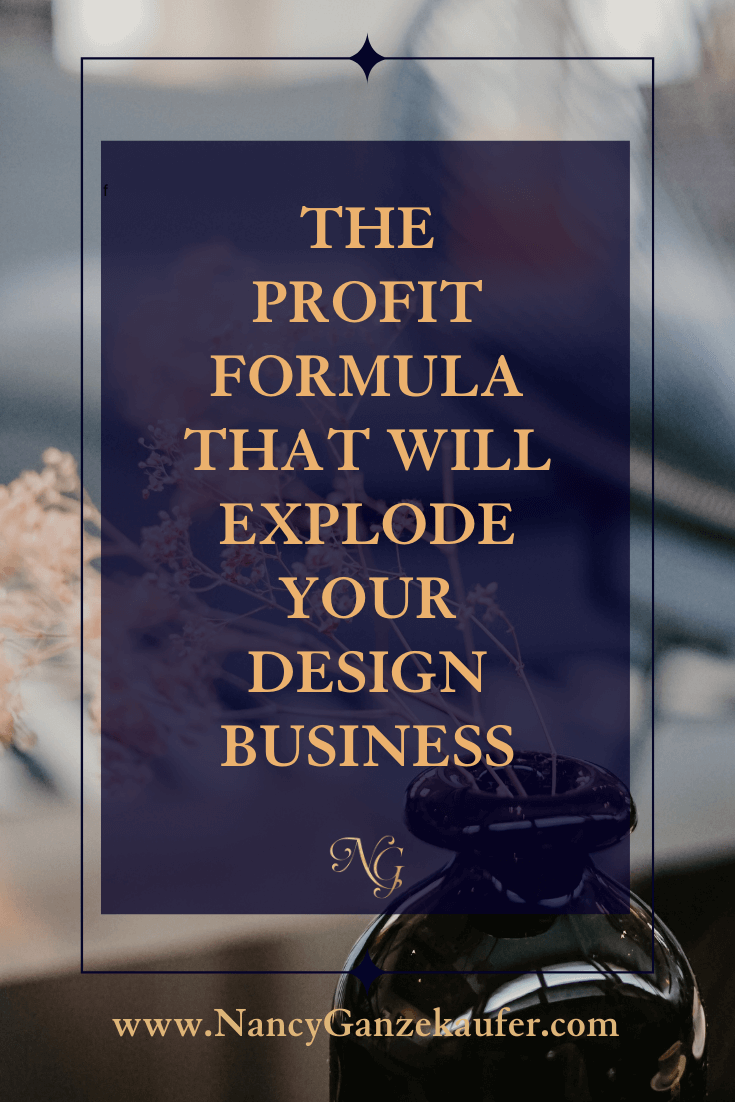 This is just a basic overview. There is absolutely NO WAY, I could cover all the details in this blog.
Let's begin!
IT ALL STARTS WITH THE MINDSET 
You start off by tuning up the mind!
Mindset matters. Business all comes down to the mind. If the mind is not right, then your decisions are not right! And with sub-optimal decision making, sub-optimal results are obtained. Yikes!
If you could just grasp that ONE thought, your lives and businesses would improve with such a natural flow! 
The way you present yourself each day determines how you deal with the challenges that arise. More often, what stands in the way is yourselves (i.e., your thoughts and emotions). Don't let thoughts and emotions dominate you. Keep your head clear on what matters by learning to separate emotions from reason; so you can focus on what you need and not be influenced by what you want.
HOW TO BE YOURSELF 
Authenticity sells. Authenticity wins. Being yourself will make you more profitable.
Authenticity shines when you connect with people. So, relax, take an interest in the people you talk to. Ask them some thoughtful questions and find out what activates them.
Entrepreneurship with a heart is serving others. Yes, you will benefit from the money that follows. But your reason is helping other people! Look inside and find the impact you would like to leave on the world. Then write your goal to help others and place it in a spot you can see every day. Give your heart the wheel. Let it be the driving force of your business.
Remember, authenticity sells. Authenticity wins. Being yourself will make you more profitable.
GOAL SETTING FOR BUSINESS GROWTH 
I know…goal setting sounds so cliche! However, it is crucial to achieving business growth. As an entrepreneur, you must take time to set goals and review your business. Having everything in place to achieve success does not mean that you will achieve the desired result. Setting goals and measuring them is the key to advancing your business and achieving what you started doing in the first place!
Learning to set SMART goals and learning to achieve them requires practice. This is something that I go over in my course to make goal-setting more concrete. Goals are to be specific, measurable, attainable, relevant and related to the time. Setting SMART goals makes clear what you want to achieve, when and how!
IDENTIFY YOUR IDEAL CLIENT PROFILE 
First, I just want to put this out there… Not everyone who is in need of an interior designer is your ideal client! Also, just because someone was your ideal client in the past, doesn't mean they will be today! This is something I teach at length in my course because if you can grab ahold of this it can be a game-changer for your business!
Before you can charge forward and zone in on your target, you must first have a solid handle on what is precisely an ideal customer. Your ideal customer is someone who benefits from your product or service.
The more specific your services and offerings are, the more specific your clientele will be.
You can also define your ideal client as someone who wants to engage with your marketing and promotions depending on your current business model. In other words, your ideal customer is of these two characteristics. They are someone who sees tons of value in your services and also helps to push your business in the same direction you want to go.
I also teach the secret of the 5 W's. It is a formula you can use to laser focus in on who is your most suitable client!
FORMULATE YOUR SIGNATURE MESSAGE 
In my course, you can bet I have a formula for this that will have people doing a double-take when they hear your message! I can't spell out all the details here. Just to get you thinking, why do you do what you do? What makes you get out of bed every morning and grow your business? You could say it's only for profit. Come on! You could probably make money working for someone else's company, selling all your assets on eBay, or playing with the stock market. 
Why are you running this business? One of your strongest differentiators is what you represent. Help your clients understand why you're here! The "WHY" is huge. When you have your client on your mind, when you know your motives and how you think, they will be much more inclined to trust you! It's all about how you formulate your signature message!
GET MORE CLIENTS WITH YOUR LADDER OF SERVICES 
As you know, not all prospective customers who you meet are ready to sign up for the full design. Maybe they want a professional to map out the furniture arrangements! So they can have fun buying the pieces on their own, or perhaps they're interested in a significant update, but they seem to be concerned about how the process of working with a professional will go. How can you work with customers like this in a way that meets their needs, while you get paid what you deserve and ideally leads to a mutually beneficial ongoing relationship?
You will immediately know the answer if you have a "Ladder of Services"; a list of design options that you can offer at various levels of commitment and price. I teach this at length. It can add a whole new stream of profit to your business model!
GROW YOUR CLIENT BASE 
Growing your client base doesn't have to be a mystery or stressful! In fact, you can always be growing your client base even when you're NOT "actively" working on it. The temptation in business growth is to become complacent or satisfied with your current number of clients.
The inevitable always eventually happens. Your clients phase out of your offerings. The jobs are completed and you don't hear from many of them after that point! You freak out and scramble to keep your cash flow, flowing! While all the while, you could have been having new potential clients phasing in, while others are phasing out!
I will teach you how to include online and offline strategies to experience continued client growth.
SHARE COMPELLING CONTENT 
Companies don't run without ample content! Content is like gasoline to running a successful business. That is no different for Interior Designers and Decorators. Do you have enough compelling content that makes you stand out in the Interior Design field? You need content that is unique and effective!
You have to create content that people look forward to reading and engaging with to create ongoing buzz around your profile. Learn the ropes of automation and generating content ideas!
NAIL YOUR SALES 
Sales can be a very scary process, even to some of you who have been doing it for a while. Unless you have had some systematic, formal sales training, it is hard to know if your process is effective enough! Like never before, it is time to nail your sales process. No more guessing games. No more being all over the map & no more hesitation.
I take you through my formulated process on how to walk potential clients through the sales process. It works like a well-oiled machine and will serve to greatly increase your closing rates!
DEFINE YOUR BRAND 
Brand definition can be here, there and everywhere! Each brand specialist might tell you something different and make things more confusing! I promise I can show you how to make that so clear, easy and fun. I know what works for Interior Designers.
Just to get you brainstorming, do you know the personality of your business? How would people recognize your company? This is crucial to having your business have it's own and clear identity, apart from the rest!
I (and guest coaches) will teach you how to build your company "personality", which we also call "branding". There are guidelines and concepts that you will need to understand and pull together. I will break this process down to something fun and easier than what you might expect!
ESTABLISH SUCCESSFUL SYSTEMS
You've got a pipeline of clients now! That's great, but now comes the real flow of servicing them from beginning to end.
This is the part where I have seen many Interior Designers drop the ball and have clients lose confidence in them. Not having a planned out, thorough system that takes your clients from beginning to the end of your business exchange, can be detrimental to growing your business.
You can learn a detailed system to take each and every client you have through a process. This can be tweaked to meet your needs, but there is no guessing game here. I lay everything out in a way you can implement ASAP and impress your clients!
IN CLOSING, BUT IT'S JUST THE BEGINNING 
As I wrap up this post, all I can think is that, " It's just the beginning" for you. When you have a tried and true roadmap available to you, there is no wandering around. There is no wasting time. There is no ceiling to your success. 
Hundreds of Interior designers have used my process to double (or sometimes even TRIPLE) their profit margins. If you want to stop constantly hustling for new work, and start growing a real sustainable business, check out my Business Building Boutique where you'll find free resources AND my Confident Interior Designer Membership Site containing all the resources mentioned in this blog!