How do you get your first client? There's so much to this, but I'm going to try to summarize it. 
First, you gotta get clear on exactly what you do, and on what you offer. You want to get really clear and concise on your messaging, who you're trying to attract, right? Who is your ideal client? You want to be talking directly to them. This process is the beginning of getting clear, concise, and knowing who your ideal client is.
Once you know who you're talking to, it's a lot easier. And then you want to get out there.
You just want to be seen and you want to talk about your business, right?
Most of us are small business owners or solopreneurs. So you are your business.
You need to talk about it, you need to share about it, you need to be excited about it.
GET TO THE POINT. GIVE THEM UNDERSTANDING. 
You need to socialize, talk about business, right? It's not all about selling the person you're talking to. But it is about getting them to understand what you do. And until YOU understand what YOU really do, and until you're confident, often that first client will not come to you.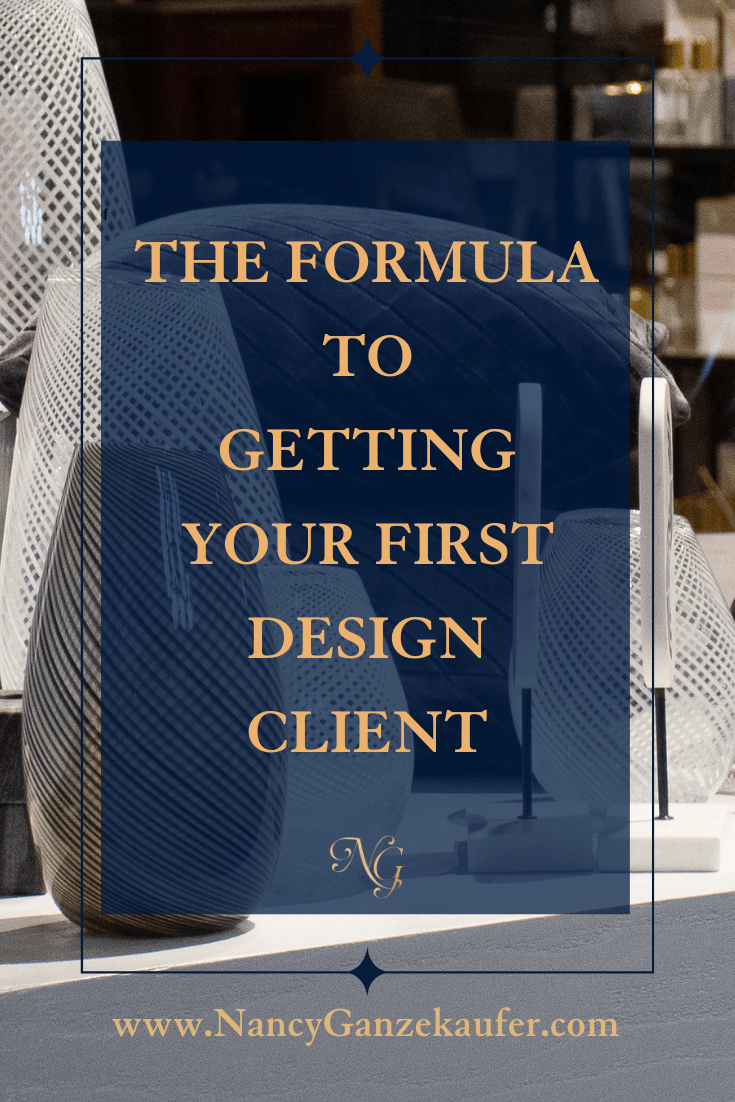 I know that sounds kind of vague, but it's all about what you're ready for!  Let's get a little bit more specific. 
When I became a coach, my first client came from the circles that I ran in, which was the interior design world. I clearly stated, when I became a coach, "I have now hung my shingle as a coach to Interior Designers."  This is what I started telling people and talking about my excitement and what I could do for them.
So whatever you do, you want to make it clear on a regular basis, this is what you do. And talk to your all your friends and family on a regular basis. Grow your personal friend's list on your Facebook page, optimize personal Facebook profile to reflect what you do, and then you can drive them over to like your business page.
Some people don't like to do that. But I'm telling you, it works. You're not selling directly on your personal page. You are using it as an extension of you. As a solopreneur, or an entrepreneur with a small business, this is key.
TAKE NOTE. THIS METHOD IS FREE!
This is a great free way to get yourself out there on a regular basis. So you always want to think, give first, socialize on Facebook from your personal page and in groups where your ideal client may be hanging out. 
Also, add a few Facebook lives if you are ready.  Keep your Facebook Lives short (but do them on a regular basis) because everyone is busy.  Make them quick tips that your ideal client would be attracted to. 
How do you get your first client?  Kind of the way you get every client after that, be out there, be present, be talking about what you love, talking about your business, shout it from the rooftops.
So get clear, get concise on who YOU are, who you serve, what your message is. Talk directly to them in any way possible in person or on social media. Daily, if possible, because the day they need someone who does what you do, they're going to think of you.
LET'S RECAP AND WRAP IT UP!
How do you find your ideal client? Get clear and concise, then talk directly to them as often as possible. If you're currently waiting for your ideal client to hire you, you can do your marketing yourself for free, by being yourself. 
Update your personal Facebook page, make it clear what you do. Make some announcements about how excited you are to be in this new field. And even if you've been in business for a while, you should be doing that on a regular basis as well.
Share content. Share product. Share something you're doing related to work. This is your prime real estate, a virtual platform! Now run with this!
GIVE US YOUR EXPERT ADVICE
Have you developed a unique system for finding new clients? What has worked for you? What has NOT worked for you? Please, share below.
Overwhelmed growing your business and need help? You don't have to figure it out all alone anymore. Sign up for a business strategy session and I'll help you make decisions on the next steps for you and your business.
Hop into my private FB group the Interior Design Business Forum here to get my daily inspiration, lessons, thoughts of the day and let the community help you become an actionable entrepreneur!!