If you don't implement a way to access new and potential clients regularly, your business could eventually dry up! You don't want that, you've worked too hard for that to happen.
There are so many ways to fill your client pipeline but it does take effort. When you take action every single day to grow your email list, grow your followers, or reach out to past clients, every minute that you put in helps towards filling your pipeline.
LIVE A WELL-ROUNDED LIFE!
What comes across to potential clients and who they are attracted to is often based on your personal life, views and lessons.  No matter what you do, this comes across when you're talking to people. You want to make sure that you're living a full life. Make sure that you're getting out and that you're socializing. That's number one! Because when you're socializing, that's your opportunity to tell people stories. Tell people about an exciting new product that's out or let a past client know that a certain experience triggered a thought about them. So share what you do in your personal life with others.  Do you have a hobby? Have you recently read a great book? Gone out to see an amazing or not so amazing concert? Done charity work? People want to be around and do business with those who have things to talk about.  
YOUR EMAIL LIST IS KING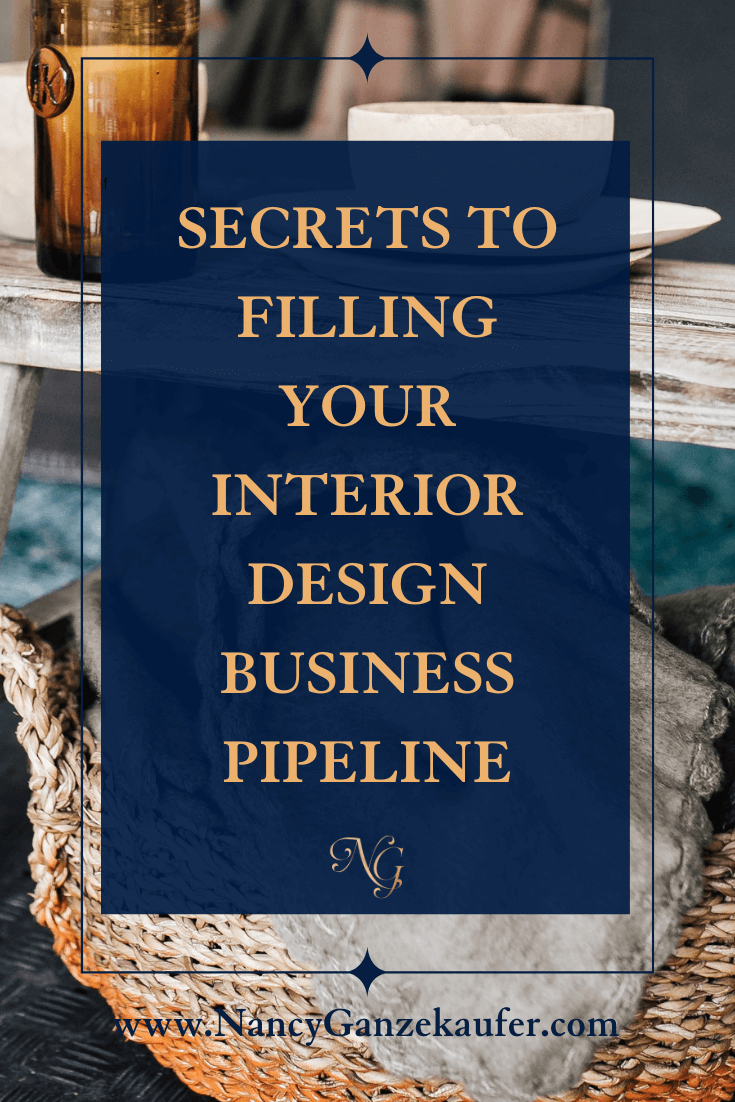 An email list is the most powerful tool that you can use to grow your business and fill your pipeline. If you don't have an email list, that's something you must work on. I know it's hard, you feel self conscious, not sure what to say and why would anyone want to read what you say anyway!?  But they do, at least some of them and those could end up being great clients in the future. You can add past clients on your email list or friends and family and just send a connection email. That's a start and then you want to start growing your list. That could be done in a number of ways such as offering specific design tips, giving a free PDF, or a free giveaway, doing a quiz, or running a contest. There are many more ways, but this is a start.
When sending emails, talk about things that excite you about your business. This way people realize that you are an interior designer and you love what you do. It just makes for a fun, easy, memorable read for them. It's not in their face sales, it's just sharing stories that they may relate to!  If you already have an email list base, send an email today.  
MAKE THINGS EASY! 
Whether people are signing up to be on your email list or taking advantage of an offer, or free service it has to be an easy process! When you're socializing on various platforms you never know who will be interested in hopping on to your page or website. 
If somebody has to think too long and hard about what you're offering or interpret a poorly written sentence, you will lose their interest and certainly diminish the potential for them to become a client in the future. The same goes for your website, if they have a hard time trying to figure it out with too many complicated steps and where to go, it ends up being something they just give up on.
Everything has to be very simple and easily understood!  I've certainly made these mistakes in the past which is why I get it now. So don't get hung up on the past, just put it on your to-do list to make a change.
STRIKE UP AN INTERESTING CONVERSATION 
Having something new to talk about all the time is very important. Type out a paragraph, "I just saw the most interesting thing today! I just learned this today!"  Anything, it could be anything! And it doesn't even always have to be about business. It should always be relatable and that's what gets people to stop their scrolling or schedule on a regular basis and pay attention to you!
In closing, building a pipeline doesn't have to be complicated or scary! It's really just about being consistent, relaying fun, telling relatable stories, and giving valuable information.
Overwhelmed growing your business and need help? You don't have to figure it out all alone anymore. Sign up for a business strategy call and I'll help you make decisions on the next steps for you and your business.
Hop into my private FB group the Interior Design Business Forum here to get my daily inspiration, lessons, thoughts of the day and let the community help you become an actionable entrepreneur!!