I wanted to talk about revitalizing your energy. You know, sometimes working from home and being a solopreneur, you struggle with waking up and just feeling Blah. Being an interior design business coach, I know how that can be. When that happens, I always find it's helpful to do three things.
GIVE FREEBIES
One is helping somebody. Actually giving away something for free. You could give a consultation or provide a coaching call. If you're an interior designer and you've been resistant to providing free information to somebody, it's really revitalizing to do what you do best even if it's for free. It gives you that positive energy, and it's good to put it out there. So I like to give away an open session here and there.
RANDOMLY REACH OUT
For instance, I might know someone who is struggling. I'll reach out to potential clients and say, "You know what? I just felt like talking to you today. I thought of you and wanted to see if I could be of any assistance. "
So, take a moment out of your busy schedule and think. Has there been anyone who keeps coming to your mind? Or, even as you read this sentence, did a name come to your mind?
Sometimes the things that just pop into your mind are what lead to perfect timing for YOU or someone else.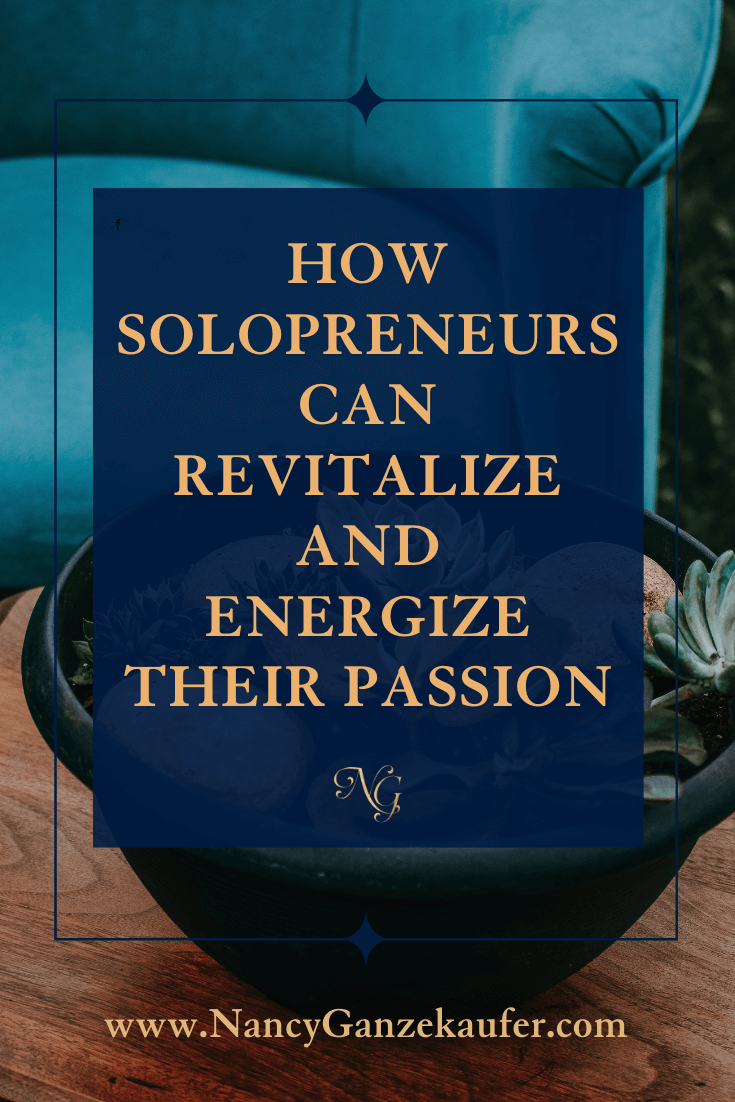 VIDEO SESSIONS
Teach someone by way of video or a Facebook live, and share something that's going on in your life. Recently, I spoke to a new person who heard me on a podcast. I was able to give her a lot of solid ideas of what she could do to keep her business stream going.
You know, sometimes your pipeline dies. Even after having a stream of great clients! I was able to talk her through what she could do to revitalize her pipeline!
Think about how many other people might need to have that information. You can do it right over video. Maybe there are even multiple people you know in the same kind of dilemma, you can group everyone together and do a free video session.
Giving tips to revitalize anything gives you such a wind of energy!
CONNECTION, CONNECTION, CONNECTION
Connecting is really, really important. I think as solopreneurs who sometimes work behind their computers, often you forget the power of connecting live with people or not connecting via text or typing and actually letting them hear your voice. It's essential to try to speak to somebody every day.
WORK IN A NEW ENVIRONMENT
It always helps to work in a different environment. Sometimes you just have to get out of your own space and go work somewhere else. It's something that you may often resist, but it's something that can make you feel alive again and get you out.  I have been known to sit at a coffee shop and just be around new people. Have a cup of coffee. Just getting out of your environment helps you think.
Feel re-energized, and it's amazing how ideas come to you when you least expect it, and most of the time it is when you change your pattern a little bit, try something new. That's when you're going to feel the most energized and productive. It helps you strategize.
So when it comes to revitalizing your energy in your business, reach out to somebody, give a free session, do a video and teach somebody something. Do a Facebook live and get out of your environment. Giving by inspiration is always refreshing and a real blessing to someone else.
Also, we always reap what we sow. What we give, we get back to us just at the time that we need it!
Share below! What are you going to do to revitalize yourself through giving? What are some other ways you revitalize yourself in a way that also benefits others?
Overwhelmed growing your business and need help? You don't have to figure it out all alone anymore. Sign up for a business strategy call and I'll help you make decisions on the next steps for you and your business. 
Hop into my private FB group the Interior Design Business Forum here to get my daily inspiration, lessons, thoughts of the day and let the community help you become an actionable entrepreneur!!