Are you one of those entrepreneurs that is obsessed with your competition, spend hours and hours online looking to see what they're doing, how they're doing it? Where are they posting on social media and should you be doing the same?
You look at their website and sort of obsess over how they do things. I'm here to tell you that you don't need to obsess over your competition. Don't feel like you need to be like them. There really is no such thing as competition. Having been an interior design business coach and dealing with other interior design coaches, there is no competition. I really believe that.
THEY WILL LIKE YOU FOR YOU
I think in all markets there are different voices, different styles, different ways of communicating, various methods to deliver the information that's going to match you. Right? So if a client is interested in your voice and they've gotten to know you, and they're watching your videos, they're listening to your podcast or reading your content or even seeing pictures that you post of your work.
Depending on what you do, they're going to relate to you, your voice, your style, to your method of communicating. With all of those factors in place, it is highly likely that they will want your services and implementation!
With that let me give you some things to think about that will help you shift your mind away from your "competition."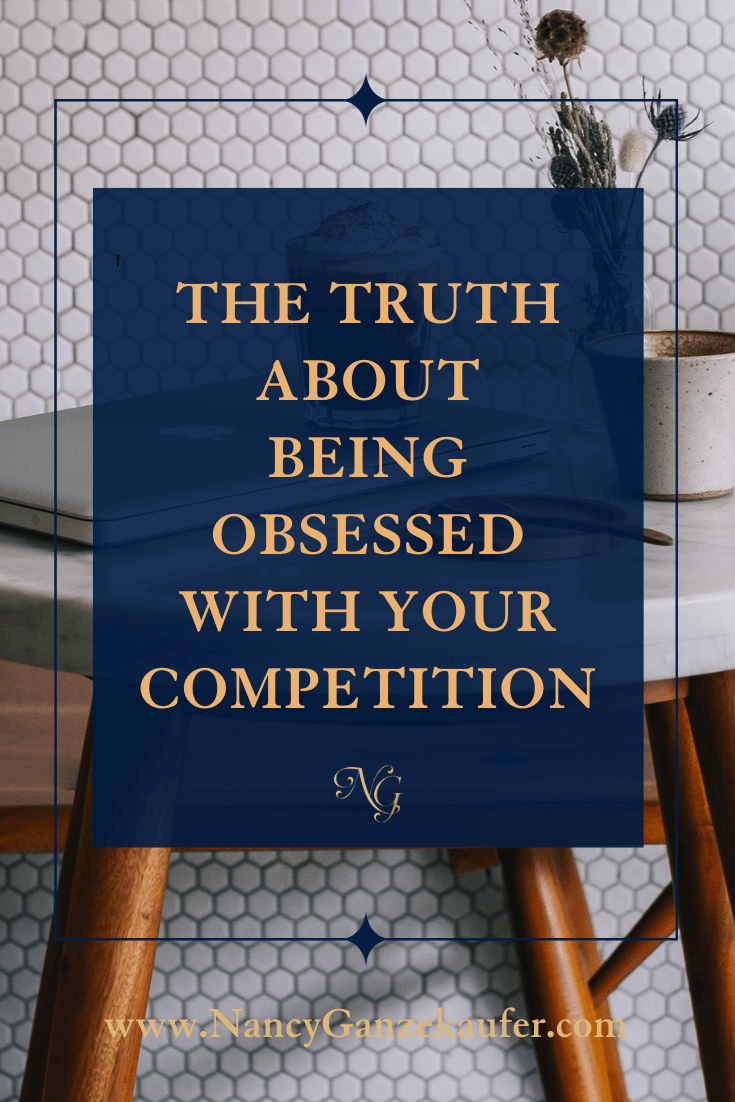 JUST BREATHE. YOUR "COMPETITION" IS NOT YOUR COMPETITION
So when you look at your competition, all that really does is put you into a tailspin. It doesn't really help if you're looking at it like, what's my competition doing that I'm not doing? I have no problem with you glancing at your competition, see their style, see what's working for them and learn from it.
If it matches your style, don't consider it a competition, I believe it's research that's going to help your entrepreneurial mindset and allow you to create your own content and be who you are and to make sure your brand messaging is the same across the board.
FOCUS ON BEING THE BEST VERSION OF YOU
Use what other people are doing as inspiration for what you do! However, what is most important is that you seek to develop and bring forth the BEST version of yourself, the best version of your business.
If you are going to be in competition with anyone, let it be yourself!
ADD VALUE TO YOURSELF
There are so many online classes, workshops and branding opportunities that give you the ability to be one who stays on par with trends and changes. If you feel "rusty" in any way, that can always be changed rather quickly. Then quickly update your profiles, bio's and portfolios to reflect the updates you have made in your knowledge and skills.
TRY SPEAKING ENGAGEMENTS
One of the top ways to build authority in the interior design field is to nail down and execute some speaking engagements. There is something about physically sharing a message to a group of people that makes you very attractive to work with and sets you apart!
If you have a decent enough following, you can even create your own workshops, classes, or seminars!
Now, do you see all the reasons why you NEVER have to worry about your competition?
So, go forth and do what you do. Do the very best with what you have, because no one can do what you can do, the way you do it. If you have overcome being obsessed with your competition, please share your story below and give others some encouragement!
Overwhelmed growing your business and need help? You don't have to figure it out all alone anymore. Sign up for a business strategy call and I'll help you make decisions on the next steps for you and your business.
Hop into my private FB group the Interior Design Business Forum here to get my daily inspiration, lessons, thoughts of the day and let the community help you become an actionable entrepreneur!!