I have been one busy interior design business coach! I've been busy rolling out many different programs and talking to so many people, helping them grow their interior design businesses to new levels, and staying focused on their 90-day plans. I just wanted to talk a little bit about what I call, Your Business in Words. Some of you may have it already. It's a free exercise that you can download from my content hub, Profit Insiders Corner — but I wanted to take the time to walk you through it.
What if you were a stranger and you came up to me at a networking event or a coffee shop and asked: "What do you do?"  or vice versa. Well, I came up with an exercise that allows me to have a conversation (which is basically your elevator pitch for business) with people and make what I do sound much more compelling; so that they want to talk to me more.  It really reflects who I am and my personality.
COMBINE YOUR TITLE WITH YOUR PERSONALITY
In the first sentence, I attach my personality and title.  I'm the most direct, supportive, and motivated life and business coach that you will ever meet! Doesn't that sound attractive?! The key to the first sentence is to express your personality traits and make good use of adjectives. Are you happy? Are you motivated or are you detail oriented? Are you friendly? Are you kind? Are you patient?
If you are a health and wellness coach, you can say, "I'm the most compassionate, friendly, and loving health and wellness coach you're ever going to meet." Right away somebody goes, "Oh, I want to work with somebody like that."
Or, if you're an interior designer, you could say something like, "I am the most creative, detail oriented, and experienced interior designer you have ever met." When you put your personality traits along with your title it right away makes you more appealing.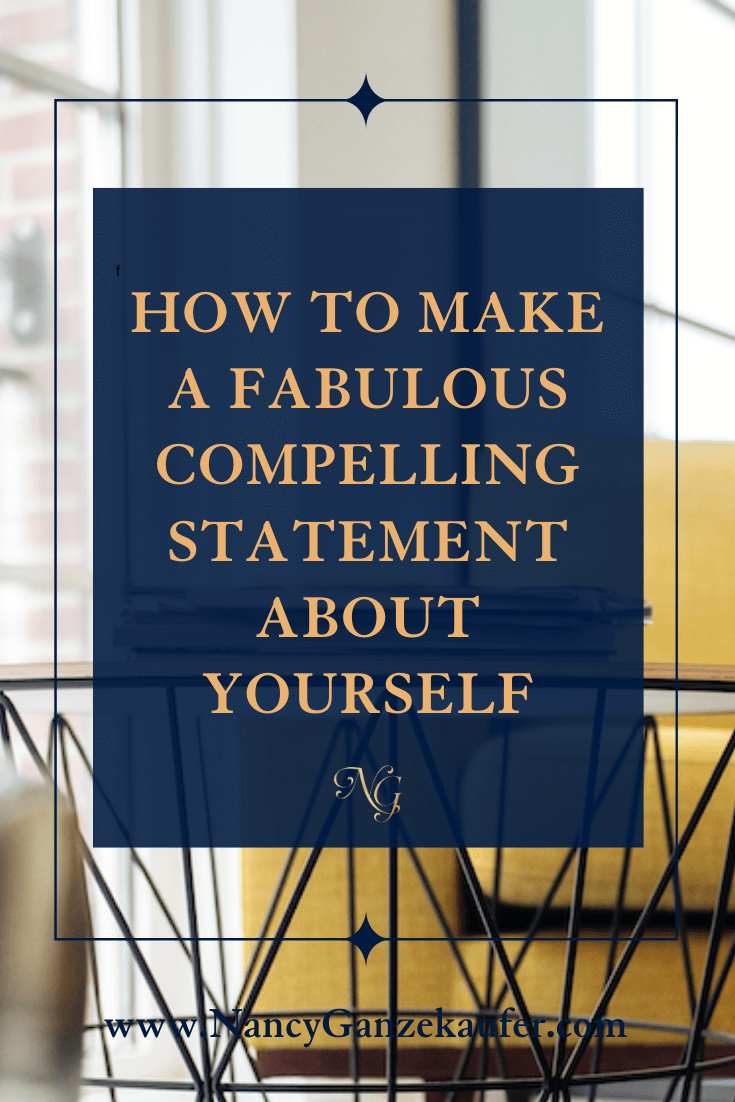 AMPING UP ATTRACTIVE CHARACTER
You know there's something called an attractive character. People want to be around people who are appealing. They want to be around people who are motivated, excited, and happy.
As an interior design business coach, I normally tell my interior designer clients "Just abandon the salesy-ness". You don't need to be salesy. You don't need to be that traditional. You just want to be enthused about your product or service. It makes you feel more excited and confident. It makes you excited to talk to people. And it'll keep the conversation going when you're at networking events or when you are introducing yourself on social media.
Some people even use this formula in their bio, which I love because remember, your bio is not really about you. It's still about the client and what you can do for them. You can even use a sentence or two on your business card so that you are always consistent in your messaging.
Do you know what the magic is in all the things I have shared? The magic is merely stripping away a lot of commercialism and "salesyness" and being a person who IS professional, but relatable and relational.
Again, you want to be attractive. You want to put your personality traits with your title, right? So if somebody says, what do you do for a living? You can tell them, I'm the most supportive, direct, motivated, or you could say I'm the happiest, friendliest, most creative, whatever, whatever your title is, whatever you do for a living.
In closing, I want to give you some homework, and feel free to post what you come up with in the comments! But, what I want you to do is practice combining your personality and title. Come up with different variations and see which one makes you the most appealing!
Overwhelmed growing your business and need help? You don't have to figure it out all alone anymore. Sign up for a business strategy call and I'll help you make decisions on the next steps for you and your business.
Hop into my private FB group the Interior Design Business Forum here to get my daily inspiration, lessons, thoughts of the day and let the community help you become an actionable entrepreneur!!