As an entrepreneur or business owner, increasing your profitability can be an ongoing challenge. Learning how to solve the profit puzzle can help you achieve exponential business growth. But where is the best place to start?   
At its core, your business is no different than any other endeavor. Best practices indicate that it's always smart to start with a plan of action followed by a set of actionable steps. By walking through the pieces of the profit puzzle, you can decode and solve the puzzle for the success of your business.  
CREATE
Starting with a business plan will allow you to define your specific goals. With that solid foundation, you can determine the most effective steps to get you from here to there. You can navigate more quickly toward your goals. And you're likely to experience a smoother journey.   
In addition to the attainable steps, incorporate efficient processes, mindset adjustments, and time management strategies into your roadmap. By doing so, you will experience fewer moments of stress and conflict. You are less apt to be distracted by tangent ideas or periods of overwhelm.   
And if you do end up feeling a bit lost? Simply refer to your roadmap. It serves as a constant point of reference for grounding yourself and regaining your focus.    
IDENTIFY
The next piece of the puzzle? Defining your ideal client. Not everyone is a good fit for your business.  
What kind of work gives you the most fulfillment? Specifically, how would you define a client that you most enjoy working with? These are just a couple of the questions you can answer to help you identify determine your ideal client and, in turn, your target market.   
Develop a detailed Marketing Plan to use alongside your business plan. Without it, you'll end up waste valuable resources on attracting clients who don't fit your business model. By using targeted marketing efforts to attract only those who fit your business model, you will more quickly see an increase in your profit margin.    
FORMULATE
While it is imperative to define your ideal client, it is equally important to define your business. The next piece of the puzzle is formulating your signature message. In other words, describe who you are, what you do, who you help, and how you can help them.   
The key is to develop a concise description that you can use over and over. This process will help the clients you want to work with find you more easily. It should be confident, complete, and compelling.  
Be creative when formulating your message! Have fun with it. You can use it on your website, in your sales pitch, on social media… you name it!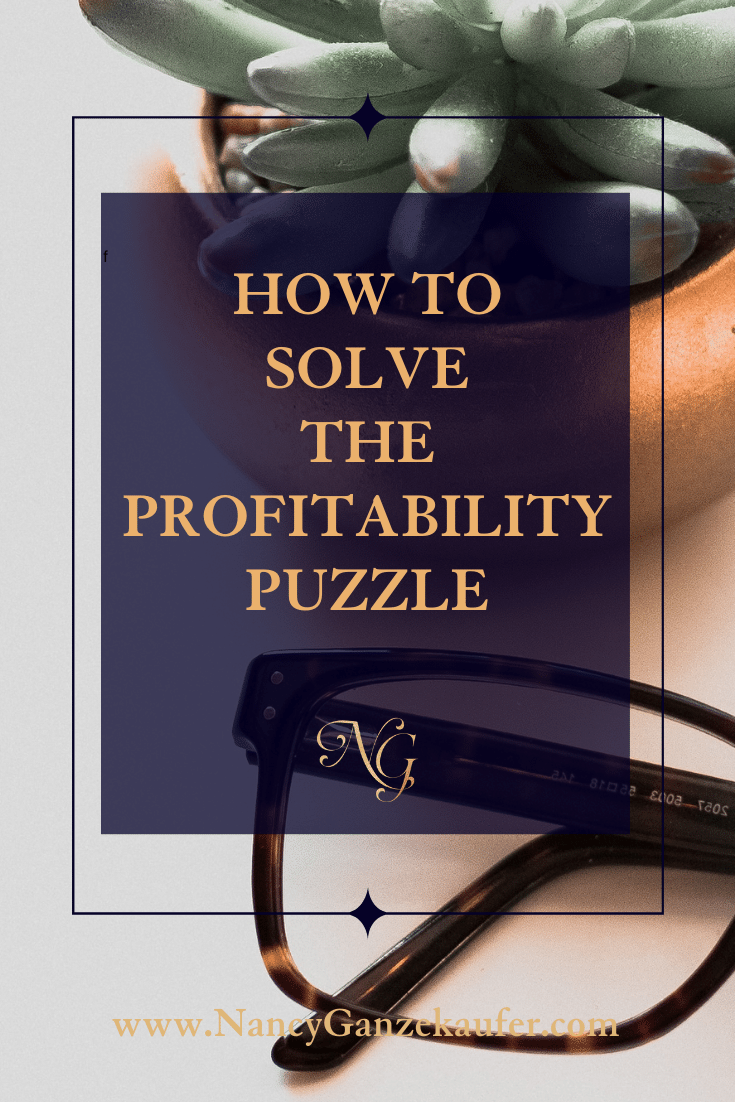 BUILD
With these pieces in place, the next step is to jump into the details. In addition to understanding the nature of your business, potential clients need to know the specifics. What services do you offer?  
It is essential to provide a breakdown of your services – I call this your Ladder of Services. Be sure to document, in detail, what each level of service includes. And set a price point for each service level.   
It isn't unusual for clients to need guidance in selecting the right service for their project. For example, in the Interior Design world, many don't think they need Full-Service design. In reality, they do need it for an optimal project outcome. Have strategies in place for acquiring the information needed to best advise your client.   
GROW
With your solid business and marketing plan, your ideal client defined, and your business details documented, you have a strong foundation from which to expand your business. The focus of the next puzzle piece is growing your client base.   
Wouldn't it be great if you could generate more clients without a lot of time and effort? Well, the good news is, you can! Even better, you can do it without spending a ton of your resources on social media ads. So… what's the secret?   
Simply put, become more visible. In your online presence alone, there is more value than you may realize. By developing strategies that use social media to increase traffic and engagement, you can strategically manage your pipeline and achieve consistent business growth.  
SHARE
The next piece of the puzzle is to find ways to engage with all those potential clients. And the best way to do so is through the creation of compelling material. A business just isn't as effective without frequent and relevant content, period.   
Fresh and unique content will help to capture the attention of your followers. Knowing who you're marketing to (your ideal clients!) will help you determine what they want to hear from you. And learning how to create content that motivates your online community is essential.  
Establishing a strategic social media plan that lines up with your business goals will make this process manageable. Using automation tools can make scheduling social media much more efficient. In general, sharing compelling content will impact your success and the rate of growth of your business.   
LEARN
The next piece of the Profitability Puzzle is one that many find intimidating. Yet, learning to nail the sale is an essential skill for a successful business. Having confidence in yourself and your services is integral.  
Developing a process that standardizes the sales conversation is a great place to start. It takes a lot of the guesswork out of your sales pitch. And it helps keep you in control from a cornerstone of confidence.  
Having faith in yourself and your services allows you to better handle objections. Knowing how to determine the needs of your client can help you respond to questions before they are asked. And presenting yourself and your business as capable and approachable will go a long way toward a successful outcome.   
DEFINE
One way to generate more credence for your business is by defining your brand. This is the next piece of the puzzle. When you establish your brand, you make your business more visible and recognizable. This is indispensable to your sales success.   
Business branding encompasses multiple components. Your logo, your font, your color scheme, and your images all serve to define your business. Each element should authentically reflect what makes your business distinctive.  
Learning to capture the unique voice of your brand will increase the effectiveness of your social media marketing efforts. It will help you to attract and convert more clients. And at the end of the day, it will improve your profit margin and expand the growth of your business.   
ESTABLISH
The final piece of the Profitability Puzzle is related to how you run your business. Having successful systems and standardized processes in place is vital. And being organized with your time and your resources will help your business become more efficient and effective.  
Prioritize organization and efficiency in your business practices to help establish a good work/life balance and a positive work environment. Even with the other pieces of the puzzle in place, operating inside a world of overwhelm and chaos will ultimately have negative results. And no one wants that!   
Find ways to automate repetitive and time-consuming tasks. Even better, delegate them so that you can focus on the tasks that impact your profit margin and the growth of your business. Determine the best way to set up your business for maximum efficiency – you will see your business grow exponentially.  
SUMMARY
Begin eliminating the challenges you are facing in your business. Work through the pieces of the Profit Puzzle and employ best practices through each piece. Create actionable, attainable goals. Take it one step at a time. If you are willing to do the work, you will achieve business growth, higher profitability, and greater overall business success. 
Overwhelmed growing your business and need help? You don't have to figure it out all alone anymore. Sign up for a business strategy session, and I'll help you make decisions on the next steps for you and your business.  
Hop into my private FB group, the Interior Design Business Forum to get my daily inspiration, lessons, and thoughts. Let this community help you become an actionable entrepreneur!!