An Interior Designer is no different than any other entrepreneur, fundamentally. In order to keep the flow of your interior design business going, the ongoing routine of the networking game, cannot be circumvented.
Networking is sometimes a word that may feel like a burden, to the already, very busy Interior Designer. However, take heart, because if you can find the right strategy, you can leverage your time and opportunities to work in your favor more than you think.    
Let me take you by the hand and show you 7 key steps, to more fluidly ramp up your networking game.
1.  Join an Industry Organization.  Go to Meetings and Events
Industry Organizations are always becoming more prolific. Have you looked into interior design associations? Interior design organizations could be the very next key, to bringing things to the next level. These organizations have built-in opportunities, that could really benefit you. Not only will you meet people who are professionals and experts in the field, but people talk. People share the latest happenings in the field. They talk about the "pros" and the "cons" about what is going on.
You may inadvertently hear about a new platform for marketing, that could be added to your "business tool kit" arsenal. You may be invited to be a part of a project that utilizes your Expertise. There are many different scenarios that could transpire, just from going to interior design organization meetings.  I would like to invite you to join www.interiordesignsociety.org. I am a National Board member and the president of the Virtual Chapter.
2.  Join a Charitable Organization. Engage in Committee Meetings
Charitable Organizations can be a huge in-road into fresh leads. Why? Charitable Organization's hold galas, workshops, and fundraisers. They need help on the decorative side. Many of these organizations may not have their own in-house interior designer. Especially, if you position your business with them months out from major holidays, this could work out in your favor. 
Why would it be important to be involved with committee meetings? Well, you're showing a vested interest in the good cause at hand. The more you input, the more natural it will be for that charity to want to involve your interior design services because they see you as part of the "family. You share their heart. You share their vision. Who better to communicate the message through interior design?
3.  Participate in a BNI, Chamber of Commerce or Local Networking Group
Joining a BNI can be a real game-changer. Especially, because it grants you access to many chapters. If you desire to expand your interior design business into other cities, you are able to be involved in other chapters, in various cities. Usually, BNI's have a global reach, as they have chapters around the world. There is really no limit to the reach you could potentially have.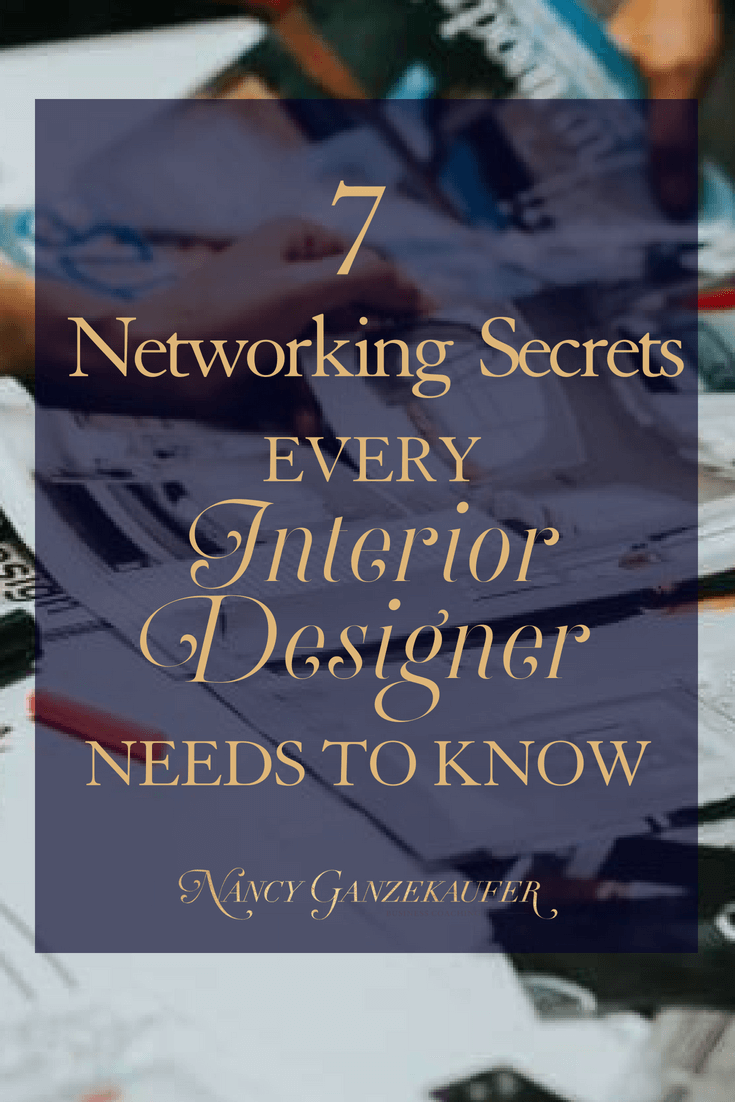 Be involved with your local Chamber of Commerce.  It builds your credibility as a business owner. It shows you have a stake and interest in the city. It proves, that other officials and influencers KNOW YOU. They know your brand and what you do. Therefore, just by simple association, they are more likely to view your business as one that is known and can be trusted. Other members, businesses, and consumers may be quite drawn to your interior design services because they see you already have a vested interest in the community.
Utilize your local networking groups. This is a very relational way for others to get to know you. The more you attend group gatherings the more friendship, bonds, and trust grow. They help you. You help them. Went it comes to gaining more potential clients, referrals from your local networking group connections can be a very fluid setup.
4.  Review Profiles on FB.  Message Them and Make a Friendly Connection
Make yourself friendly over Facebook. Facebook's personal and business pages are an easy and FREE way to make yourself and your business known. However, keep in mind the approach is everything. You do not want to appear like you are over-selling your business. Present yourself as one who is highly interested in what THEY DO and WHAT THEY NEED. People are extremely busy. So, keep it on the brief side. Be meaningful and concise. Slip in a link or two, to show off your best work.
5.  Go Out. Have Fun in New Places
As a business professional, it is easy to feel like our "networking well" is running dry. Perhaps, we are looking in too many of the same places, for too long. Sometimes, all that is needed is to shift our focus to a new city. Try a new county. Go and find places where a grand opening is on the horizon. New businesses may need some interior design support, for their overall venture or the grand opening itself.
Another option to consider is Swap Meets. Certain metropolitan areas host really nice Swap Meets. Where people are looking for goods of all sorts to decorate their home or event. You never know who you might meet there.
6.  Be Part of Group Tours for Subjects that Interest You
Group tours have become quite a trend. This could be a very powerful interior design marketing strategy. You can even find group tours on Airbnb, now! They can literally be found almost anywhere, in many types of interests. The strategy behind group tours is that whoever is behind the planning them, has already picked out the best of the best to present to their audience.
All you need to do is keep a notation about where you went. Try getting at least a handshake in with a person of influence (or gatekeeper) of said business, workshop, etc. of what is presented to you on the tour. Be sure to pick up a business card.  
At a later time, go back and make a proper introduction. Or, simply give a call or send an e-mail within the next day or two, after the group tour. Mention your trip, via the group tour and how you would like to present your services, based on the current or future needs they may have.
7.  Go to High-End Store or Art Gallery Events
A very particular type of clientele spends time at art gallery events. This could be a fruitful way to network and build new connections. As a very particular type of audience is in one place, one time. Show your interest in why they are there. They may share something about their business, a party they are planning or a home they are thinking of revamping decoratively.
If you live in or near a metropolitan area, take a visit to high-end boutiques. Make your connections with the owner or manager. You are presenting your interior design services, but you are also presenting the desire to create a relatable person to person connection.
Also, if you happen to notice new stores that are in the process of being built or about to open, do a little research. Try and speak with a developer. Perhaps, they are in need of your interior design consultation. At the very least, maybe they will point you in the direction of another professional, who will need your interior design skills and services.
As an interior design entrepreneur, just adding a few new networking tools will allow you to leverage your time, resources, and new relationships in a strategic way. Bringing a whole new dynamic to building fresh momentum in gaining new clients.
Overwhelmed growing your business and need help? You don't have to figure it out all alone anymore. Sign up for a business strategy call and I'll help you make decisions on the next steps for you and your business. 
Hop into my private FB group the Interior Design Business Forum to get my daily inspiration, lessons, thoughts of the day, and let the community help you become an actionable entrepreneur!!