Your Business in Words Helps You Perfect Your Elevator Speech in Less Than 15 Minutes
Yes! I'm ready to avoid fumbling when clients ask what I do, perfect my elevator speech, and keep potential clients from walking away due to a boring sales pitch!
I Understand That When I Act Now, I get Instant Access to Your Business in Words, including: 
A way to define who you are, what you do and how you help potential clients 
A way to differentiate yourself from others in your field
The secret to never having anxiety over how to present your business at networking events or when meeting new people. 
An interactive worksheet that will reveal the secret to a perfect elevator speech
Tips to networking more effectively!
A way to revitalize your business! 
I Also Understand That When I ACT NOW, I Get FREE Access to Your Business In Words, including: 
Limited time only access to My Business in Words Webinar.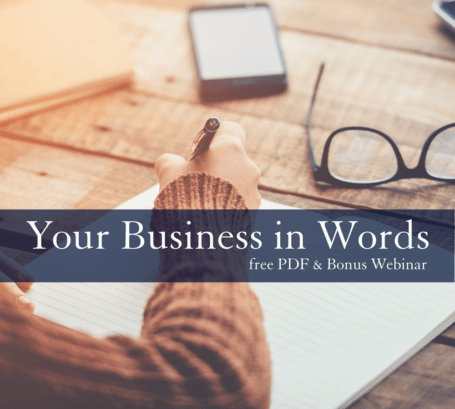 P.S. Every minute you wait to create "Your Business in Words" is another minute your missing a potential connection with an ideal client!  Use this breakthrough exercise to quickly and easily avoid fumbling when people ask what you do and more!