A smart marketing strategy helps you attract your ideal client; however, getting carried away with too complex a marketing strategy costs money, takes time, and does not necessarily guarantee better results. To help improve your visibility and reduce effort, let's simplify your marketing with a few quick tips! 
Overwhelm Relief
I use the term "overwhelm" often because, as entrepreneurs, we all experience it at some point. A complex marketing strategy contributes to overwhelm, putting unnecessary pressure on you that takes focus away from your core business.  
However, simplifying your marketing can help alleviate that overwhelming feeling. By streamlining your approach, you can focus on the essential elements that drive results and avoid the overwhelm that comes along with complex marketing strategies. 
Clear Objectives
Simplifying your marketing allows you to define clear objectives and goals. Although every effective marketing strategy starts with clear objectives, you can prioritize what truly matters by narrowing down your focus.  
You might think you have clear objectives when, in reality, being too specific creates complexity. For your business to succeed, clarify your marketing goals and identify purposeful marketing activities that help you become more effective. Goals are easy to track, allowing you to eliminate less effective tactics. As a result, you can see increased ROI by only investing in the marketing tactics that work.                    
Targeted Messaging
Now… let's talk messaging. Identifying your target audience ensures you do not waste time and money in the wrong places. It also ensures your message resonates with your ideal client.  
Simplifying your marketing enables you to develop targeted and concise messaging that captures your brand's essence. As a result, you can effectively communicate your business's unique value to your target audience. Targeted messaging is clear and focused, grabbing attention, engaging your audience, and driving conversions with less effort.        
Time Optimization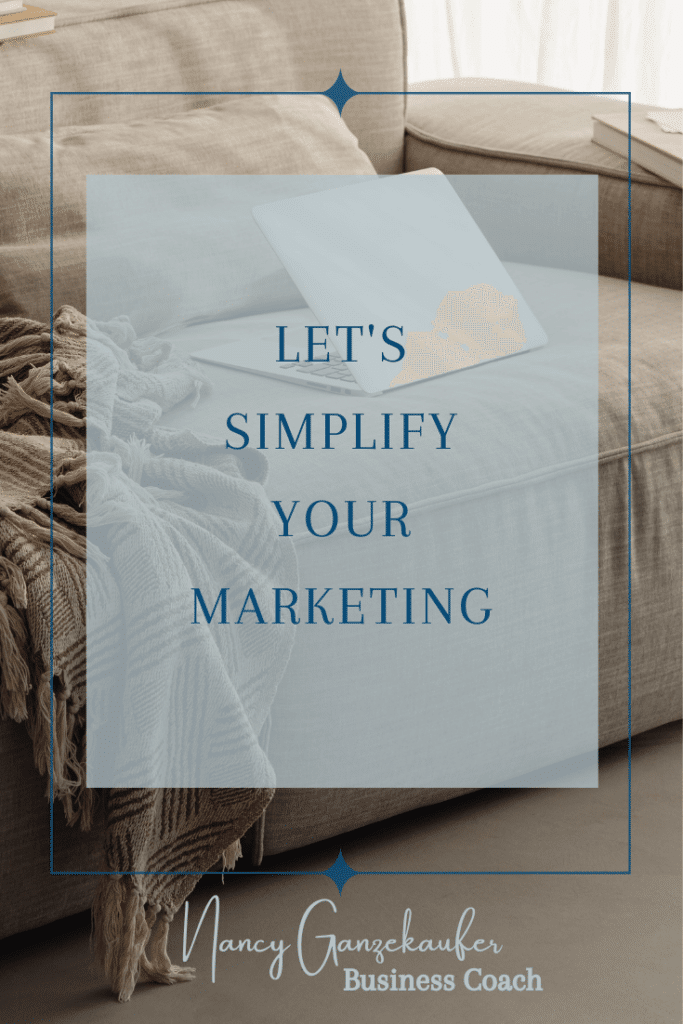 Whether you have a team or operate solo, your time is valuable! Your focus must be on your clients. Simplifying your marketing allows you to optimize time with adequate time allocation. Time optimization eliminates unnecessary steps, streamlining your marketing workflow and allocating time more efficiently.  
As a result, you can dedicate more energy to your core business, pursue growth opportunities and remain scalable to welcome new clients. 
Consistency and Cohesion
Branding is all about creating a consistent message and cohesion across all client touchpoints. When you try to take on too many things, your messaging becomes muddy, and your brand identity becomes diluted.   
However, simplifying your marketing and brand identity makes it easier to maintain consistency. As a result, your visual elements and messaging become more concentrated and relatable, creating a cohesive brand experience for your audience. Consistency builds trust, strengthens brand recognition, and enhances your overall marketing effectiveness.       
Summary
Are you overwhelmed with all things marketing? You are not alone! Don't let the overwhelm hold you back. Consider a marketing partner.  
The mission of the Fresh Impact team is to help business owners simplify their marketing. They can do it through their "done for you" program… OR they can teach YOU how to do it through their Get it Done Club!