If you're tired of justifying your pricing to potential clients, you are not alone. Interior designers often must persuade their clients to believe they are worth the price they charge. And every time a prospect questions your ability, they chip away at your confidence.   
As a result, you might start making bad decisions that eat into your profits. In other words, you start compromising.  
Thankfully, there are strategies you can use to challenge this thinking and make it clear that you are worth the investment! When you are confident in your abilities, you can afford to be more discriminating in the types of clients you take on and become more profitable.  
Be Discriminating
I get how hard it is to resist the temptation to undersell yourself to win those design jobs. However, when you compromise your prices, you automatically undervalue your services and inevitably lose money. 
You must stick to your guns and know your worth, so you never compromise for the sake of a quick sale. You must also avoid those nickel-and-dime clients who will wear you down by constantly questioning every penny you charge.  
You are good enough to discriminate in the jobs you choose and to work with clients who are willing to pay for your full value. When you're tired of justifying your pricing, a specific, clear pricing strategy will attract clients who trust your expertise and understand your value. 
Be Thorough 
Every step you take, every item you buy, and every hour you spend has value. Because of that, you should keep an ongoing inventory of every task you perform and the time you spend. When you take on a project, break it down from beginning to end to account for the work involved to achieve the results your client desires.  
And while your pricing should be transparent to the extent that your client understands what they're paying for, you are NOT required to divulge your markup and profit margins. Your interior design services encompass ALL your value-added knowledge, your exclusive resources and your professional discounts, as well as your coordination of delivery and your placement of the furnishings and/or décor in your client's home.  
Clients sometimes assume that they're being overcharged for the furnishings and décor you purchase on their behalf. But your markup on those furnishings is always justified!  The client's cost of furnishings – even with your markup – is typically no more than they would pay if they bought it themselves, due to your professional discount.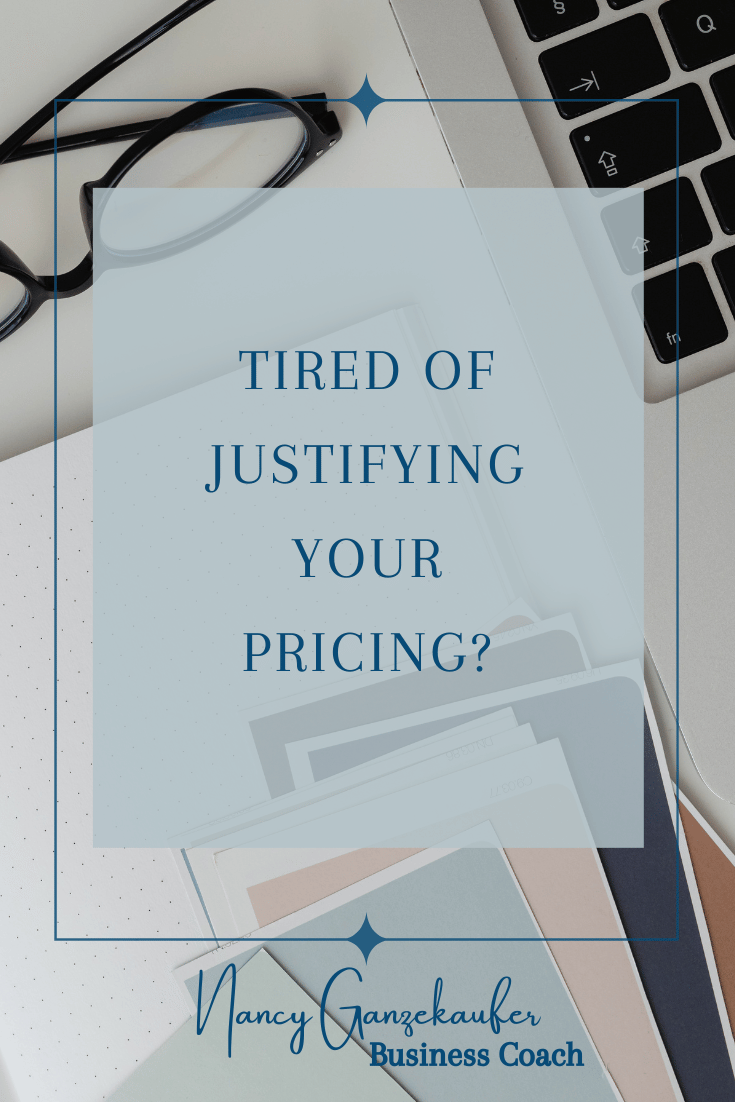 Be Confident 
No one knows the business better than you. You are a professional with the expertise and experience to create beautiful spaces for your clients. Convey your value to your potential clients with confidence. 
Your designer instincts allow you to identify problems BEFORE they happen. You also think of the little details your client won't. You consistently identify and resolve issues to ensure things go smoothly.   
Remember, your expertise is worthy of respect and justifies prices that maximize profits.
Summary
I know you're tired of justifying your pricing. Need help assessing HOW to charge and WHAT to charge? I have a solution for you!  
The KEY™: The Designer's Ultimate Pricing Tool does the math for you, giving you the data needed to account for all the time and energy you invest in each project. The data justifies your pricing for you. Even better, it allows you to price your projects for maximum profit!  
Paired with four (4) fully customizable Canva proposal templates that align perfectly with the Pricing Tool, a Good, Better, Best Investment Guide, AND the Job Profitability Analyzer and Markup + Margin Map, The KEY™ Pricing Tool also helps you prepare client proposals effortlessly and pinpoint future adjustments to hit your target profit margin every time! 
***** 
 Overwhelmed growing your business and need help? You don't have to figure it out all alone anymore. Grab a spot on my calendar for a business strategy call. I'll help you make decisions on the next steps for you and your business.  
For even more inspiration, lessons, and strategy, hop into my private Facebook group, the Interior Design Business Forum. Let this community help you become an actionable entrepreneur!