Having confidence in yourself and the services you sell is at the heart of your sales success. To make that connection and convert leads to customers, that confidence will help you overcome objections to seal the deal! 
When you fail to meet a customer's objections head-on, you miss the opportunity to show them how you can resolve their problems. If you want to achieve business success, you need to master the art of overcoming objections. 
Have Confidence in Your Business
Increasing your confidence as a business owner is key – not only to the sales pitch but to handling the inevitable objections that you encounter. If you want more clients, you must convince them you are the solution to their problem. By building confidence in yourself and the unique services you offer, you can improve your skills of persuasion to overcome any objections that come your way. 
Learn to Listen
If sales conversations stress you out, change your approach. Instead of focusing on your own words, learn to listen to what your customers say. If you ask the right questions and listen carefully to the answers, you are less likely to hear objections. Instead, you'll find opportunities to show customers how you will meet their needs. 
Present the Perfect Solution
Presenting the perfect solution at every turn is the best way to avoid AND overcome obstacles. Again, asking the right questions identifies pain points. This allows you to present your solution in a logical, convincing manner. It is less about using stiff sales tactics and more about being helpful.   
Turning No into Yes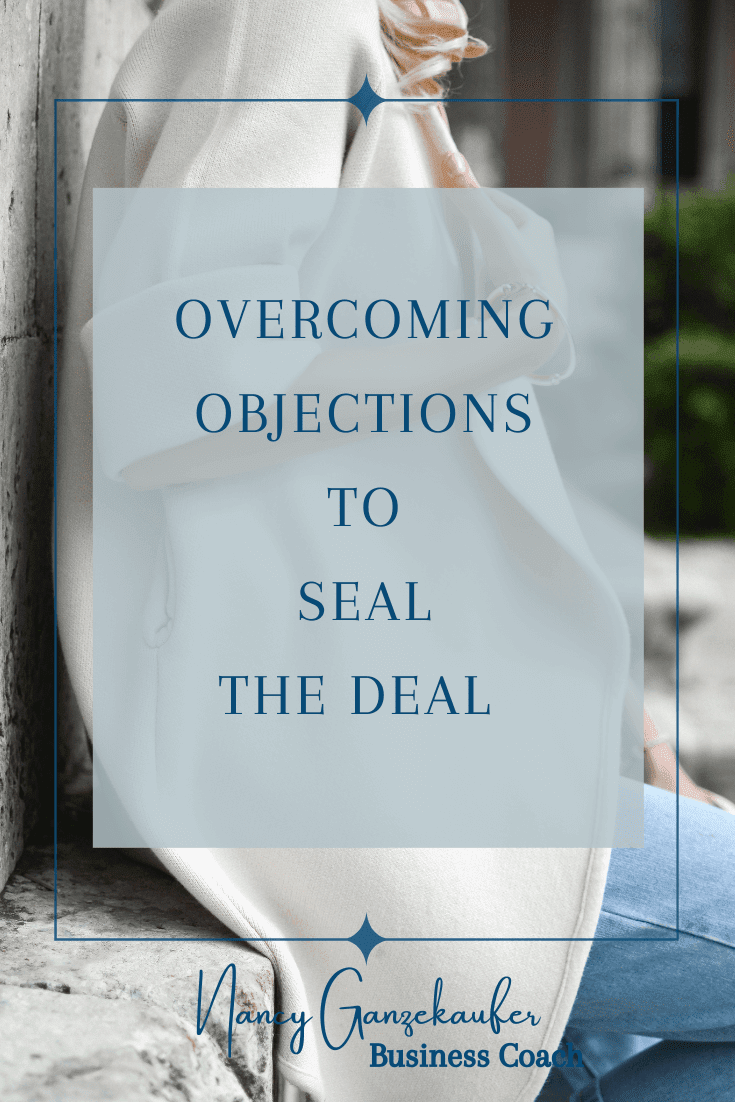 In sales, no is not always no. Sometimes it's a strategy potential customers use to avoid commitment.  
Forceful tactics don't work in this case. Instead, you have to build trust by encouraging your prospects to discuss their concerns further. The more you engage them, the more they will see you are sincere in your efforts to find a solution. What aspect of your offer isn't right? What part of your product or service isn't meeting their needs? When they fill in the gaps, you will find an opportunity to help them see you are the solution. 
Use the HUG Formula Proactively
My clients tend to encounter common objections regardless of their product or service. I use the following HUG formula to create effective answers, overcome objections, and seal the deal: 
H

ave to ask permission

: If a lead has to ask permission from a partner, boss, or friend, they're unsure about their willingness to commit or make a decision on their own. Acknowledge their position and gently ask further questions such as, "

Have I answered all of your questions or the questions that your significant other may ask you about the service?

".

U

ndervalue your service

: When money is the objection, you must prove the worth of your service. Revisit their needs, make sure you have addressed them all with what you are offering and prove you meet them better than the others.

G

otta think about it

: When someone must think about it, it is often because they are too overwhelmed to decide. In this case, you point out how you can help them overcome their issues NOW by bringing you on to assist.

 
When you can predict common objections, you can prepare strong, effective responses. 
Want to Master Sales?
If you struggle with confidently charging your worth and firmly holding your ground during a consultation, check out my proven Nail Your Sales Audio Training Course. It walks you through every aspect of sales, including handling and overcoming objections! 
Got more questions or want to talk it out? Set up a business strategy call and we'll analyze your sales approach. And for more industry learning, daily inspirations, lessons, and thoughts, hop into my private FB group, The Interior Design Business Forum . Let this community help you become an actionable entrepreneur.