THE BACKGROUND
In 2011, Nicole began taking her first interior design clients. They came slowly at first, but by 2014 she realized she was on to something. In 2014 she decided it was time to start acting like the CEO of her business. Even with that mindset shift, she hit walls that she could not overcome.  She still wasn't making enough money, and her time was becoming a valuable resource. In 2018, she was tired of working long hours for so little take-home pay.  And so Nicole decided to hire a business coach, and I'm so glad she did, because working with me, Nicole has increased her gross business income from the 2017 levels of only $11,000… to $44,000 in 2018… and to a projected $250,000 in 2019! But not only that, she increased her actual take-home pay by 600%, paying herself well over $60,000 from her business in 2019.
The most transformative factors for Nicole's business were:
Pricing herself for profitability while attracting her ideal client.
Putting systems in place to allow her to focus on the work she loves.  
Focusing on one or two marketing avenues that bring her steady business.
Gaining confidence around running her business as an employee and the CEO!
THE ORGANIZATION
V-Home Design Firm (name changed) is an interior design firm founded in 2013 by Nicole. She currently has a part-time design assistant and specializes in everything from simple design consultations to full-service interior design. Over the last two years, V-Home has experienced exponential growth in terms of both revenue and profit, without adding the burden of additional hours worked in the business.
THE CHALLENGE
Nicole began as many interior designers do – with lots of talent but limited experience running a design business. She knew that booking high-end clients who want Full-Service Design would be key to being more profitable. However, it turned out that even when she booked high-end design clients, her own fee structure was working against her! 
To paint a picture of where Nicole was in mid-2018, she was running her business alone, listening to too many podcasts, reading books, and following business gurus, and felt overwhelmed and stuck. When she became an Interior Designer, no one taught her the skills she needed to run a profitable business.
Everyone told her she needed systems, so she turned to tools to develop systems and become more of a "business" than a hobby. She tried Ivy Software, Quickbooks Online, and part-time contractors to fill what she thought were the gaps in her business. But even with these systems, Nicole felt anxious that she didn't know what was going on in her business – and with her numbers.
The additional challenge was that because her husband traveled extensively for work, she had a very narrow window of time to dedicate to learning the ins and outs of running a business.
After three years of effort and making only $11,000 in 2017 (which was also the amount she paid herself), Nicole knew she needed the strategies and business acumen to reach her goals.
And so she started searching for a way to swiftly become as profitable as possible – enough was enough. However, it was important to Nicole that her business stayed personal, and stayed true to her original vision of creating beautiful, functional spaces for her clients without having to manage a large team or sacrifice her lifestyle. She wanted what most people strive for, to work a "normal" number of hours a week doing something she loves while making enough money to support herself and her family.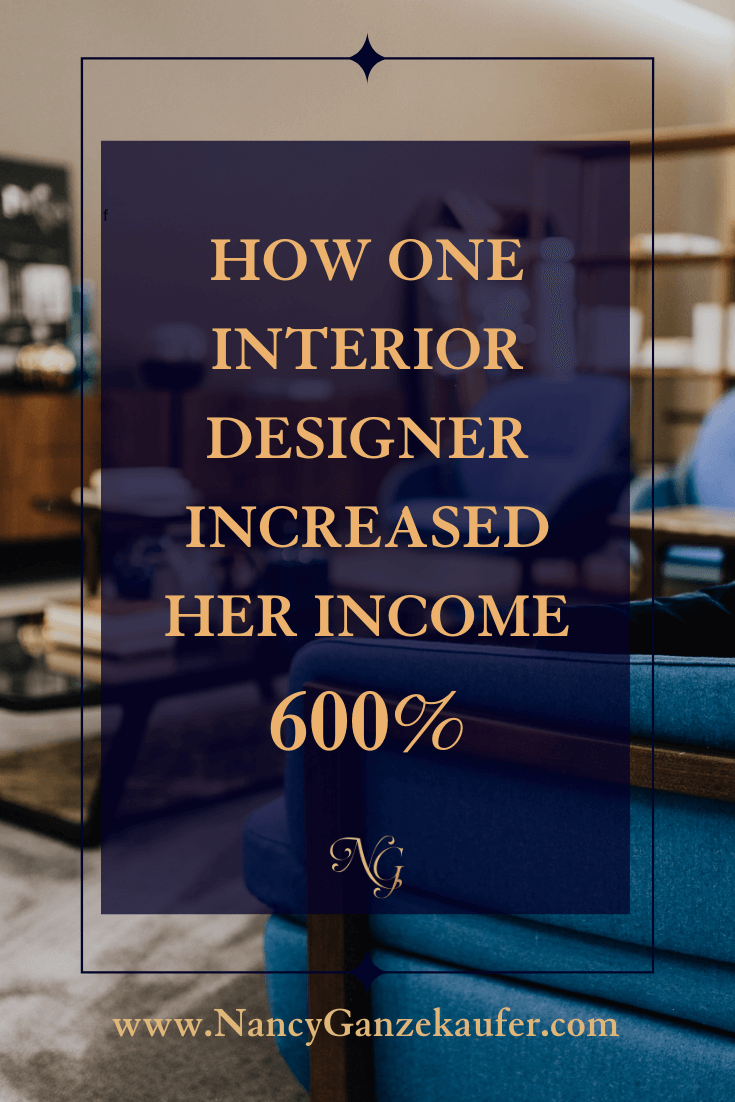 NICOLE'S BACKGROUND
After her military service, Nicole started taking classes at the local community college.  She found herself needing to move around often for her husband's job and her main source of clients at that point were ones that "accidentally fell in her lap".  She was able to work on three historic homes and then moved again to a tiny town where there was no market for Interior Design.  She started making wood products to sell and then moved again to Philly.

Still doing her wood product line, she realized she missed interior design and working more closely with people. In January of 2018, she decided to stop making her wood products and go full-time into Interior Design. 

On one fateful day, Nicole heard one of my episodes about creating what I call your "Business in Words" (Elevator Pitch) on LuAnn Nigara's podcast, A Well-Designed Business™.  She reached out to me, knowing that she needed help and direction to get laser-focused and her Interior Design business running profitably. 

When Nicole first started working with me, she was still in a bit of turmoil over giving up her wood crafted products. But her passion was Interior Design. And a major turning point in her life was when she started to gain momentum with Interior Design Clients. Was it actually possible for her to get paid for what she was most passionate about? I said "YES!", but there's a formula.

Nicole's main goals with coaching were 1) needing help getting more clients, 2) needing help getting larger client projects, 3) deciding if she was charging enough. Nicole didn't know enough about trade sourcing and was charging $100 less an hour for her design services than she is charging now after working with me.   At one point, when just starting out, she even charged only $40 an hour to get her feet wet and get experience in the industry!
THE SOLUTION
When Nicole first reached out to me, Business Coach Nancy, it became apparent that she needed guidance to set priorities for growth and make specific decisions on her pricing and offerings.  
The first key to success was to create her business plan and identify her ideal client. If this didn't happen then she would have continued to run around in circles unfocused and run her business more like a hobby.  This would have caused her to continue to take on clients that were not ideal, ones that would negotiate constantly with her and make her days filled with overwhelm.  
The second step was to fine-tune her pricing model and ladder of services. Now that Nicole understood and was putting her true value into practice, the effect of that was multiplied, having an overall profitability of 60% created amazing revenue for expansion of her business.
Finally, with the knowledge she gained in coaching, Nicole hired a staff which gave her a sense of control over her business and the confidence necessary to run a 6-figure-profitable firm.
Nicole's transformation took place in three stages. First, she got clarity on the desires of her potential ideal clients in order to more effectively speak to their pain points.  Doing this caused them to begin to reach out to her and she could warrant rates 2x's higher than before.
Secondly, by organizing the cash flow into an easy system, Nicole gained confidence in her abilities as a businesswoman without spending large amounts of time working on her financials.
Finally, I helped Nicole ensure the long-term success of her business by honing the operations processes that allowed her to do the creative work she loved and not be bogged down by other 'stuff'.
THE RESULTS
As a result of the changes Nicole implemented in her business, V-Home Design Firm experienced the following benefits:
Nicole's take-home pay increased from $11,000 per year to over $60,000 per year. 
Her business has a safety net account (extra cash on hand) with more than 6 month's worth of expenses.
Clients are approaching her to work with them, she is no longer chasing clients.
V-Home is "right-sized" meaning still small enough for Nicole to continue to be a designer and innovator, but healthy enough to support two part-time employees to take care of the day-to-day.
THE NEXT STEP
These results are attainable for any Interior Design Firm owner who is coachable and ready for change. Get started with a Business Strategy Session with Nancy Ganzekaufer by clicking here.