Needs! One thing that I have come to learn as an interior design business coach, is that sometimes what you think is the most important need of a client is not what is most significant to them. Let me help you figure this one out because it really is right under your nose.
JUST GIVE POTENTIAL CLIENTS WHAT THEY WANT 
Do you know what your potential client needs or wants?
I get answers like, well, "They want to know how much I charge,"  "If I can handle their project," or "They want to know my client history." 
But what's the very first thing, the very top of your marketing funnel? What is the one thing your clients want from you?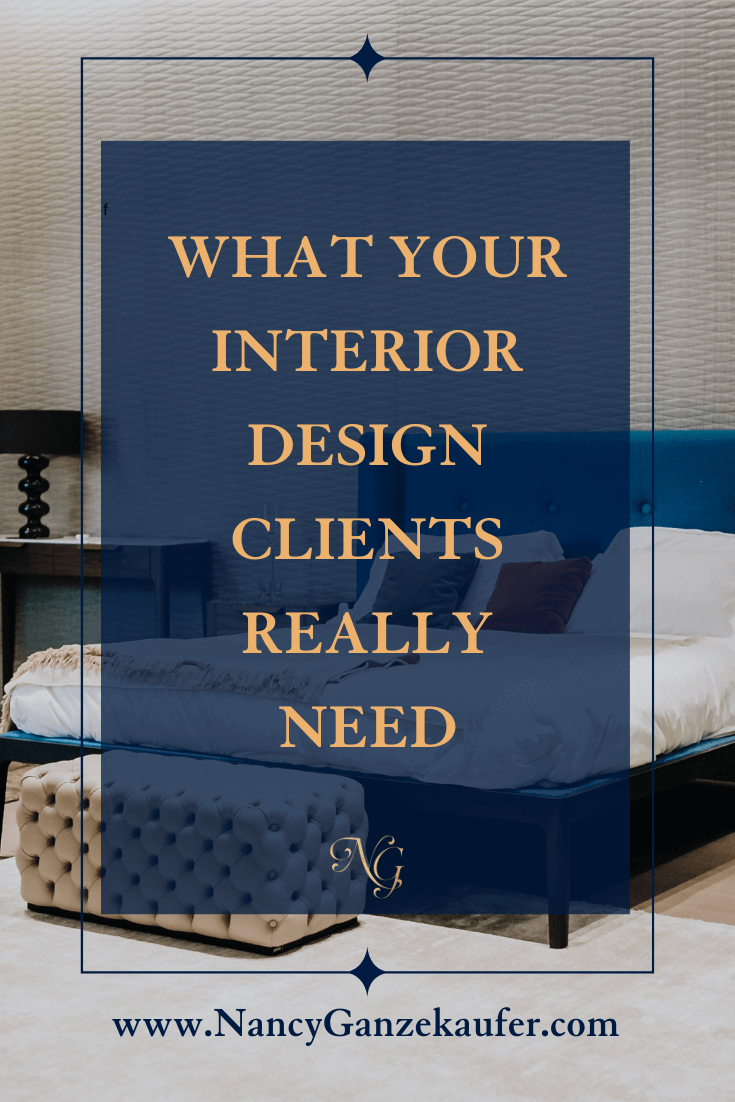 The answer is so simple! Yet, you complicate it all the time!
As an interior designer, you can be so close to the answer and still NOT see it. Your clients want to talk to you about their project. They wake up one morning hating their bathroom and then they need to talk to somebody about it. What happens is they come to your website, they'll read about you and the other projects you've done.
What do they really want? They want to VENT about their frustration, about their pending project and what needs to be done first! They want to bounce ideas off you, etc. So, make sure when they look for you via your website, it is EASY to reach you.
MAKE THE PHONE CALL 
Return a call as soon as possible!  By making a phone call you're able to walk potential clients through the conversation required to get them to a paid consult.  I have a specific sales conversation outline that I call the "DESIRE Sales Formula." It works like a charm.  So many people like to hide behind an email and a contact form. It's not going to get you anywhere if you or a staff member doesn't get on the phone with them and listen to their needs. 
Get ready for an emotional response first!  "I can't stand my family room, I need to do something," "I need window treatments," "I need these walls to be painted," "I need to talk to somebody." If you're one of the people in their circle, and they've been seeing you and your social media posts, or they've been getting emails or blogs from you, or they have found your website, they just want to talk to you!  
When you get on the phone with people who want to discuss their design project that phone call should only be taking 15 minutes of your time. 
DON'T HAVE POTENTIAL CLIENTS JUMP HOOPS!
Imagine walking into a boutique, opening the door and someone standing right there saying…
"Hi, how can I help you?"
And you say,
"Well, I'm looking for a pair of black pants today."
"Okay, great! Let me show you where the black pants are! You also need a shirt. Let me take you over here! And do you need a pair of shoes? Let's take a walk over there!"
Perfect flow. You walk into the boutique and you get to actually talk to somebody that walks you through the process. 
Now the next day you go to a different boutique and imagine them having YOU stand in front of the entrance as they say…
"Wait!  Before you go any further, let me show you all the fabulous outfits that other people have purchased here before."
"Oh! Wait!"  Let me tell you about the owner and all that he or she has accomplished."
"Oh! Wait!" Let me show you all the publicity that this store has gotten."
"Oh! Wait!" Take this! It's free!"
All of this before you even get past the front door and get a chance to talk to anybody about your needs!
JUST KEEP IT SIMPLE 
Be careful not to put up too many obstacles that distract potential clients from getting to you, and being able to talk to you. Remember, they just want to talk and VENT about what they feel needs to be fixed or transformed. It's often an emotional conversation so don't forget to take notes on the golden nuggets.
Based on the solid info they share during the call, you should be able to gently coax them into your paid consult with ease. 
Need to learn how to get your initial inquiry calls to a paid consult?  Sign up for a business strategy call and I'll walk you step by step through the perfect first phone call using my DESIRE Sales Formula. 
Hop into my private FB group the Interior Design Business Forum here to get my daily inspiration, lessons, thoughts of the day and let the community help you become an actionable entrepreneur!!