If you want to succeed with your interior design business, you need loyal clients and brand loyalty. As an interior design business coach, I realize that no one can skate around this – building customer relationships is critical, as is feedback. But you need to be able to balance what they want with giving into requests. This is where your CRM (Customer Relationship Marketing) software comes into play. It helps you build a complete interior design client profile that includes their feedback. In addition, it helps you build a relationship with your design clients. Marketing involves existing clients and new lead generation. Let me show you how all of this can benefit you!

1. WORD OF MOUTH – CANDID CONVERSATIONS

This is exceptionally true and powerful for the interior design professional! Much of what many of you have built, has been by word of mouth!

When it comes to deciding what to buy or where to buy it, word of mouth has always played an important role and it still does today, just in a somewhat different format called social media. This is also the fastest and most effective way to build trust with customers and potential clients. It's also known to give the highest ROI. This includes online reviews, recommendations, open questions and answers, feedback and more. These conversations and what you learn about your customers can be integrated into your CRM software.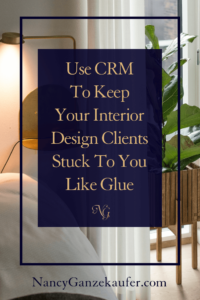 2. BE HONEST

One way that small businesses stand out over large businesses is that customers have an easier time talking to a real live human. Plus, with the nature of your industry, there really is no getting away from this!

That translates to a lot less of their valuable time used trying to get a response and the building of trust in their relationship with your company. Always be honest with your customer. Even when your customer is in the wrong, you can be respectful and kind in your response. Your CRM software helps you see patterns that are established, such as customers that tend to complain often or who have phoned in with the same problem or complaint numerous time.

But what does that have to do with marketing? Glad you asked! Nothing short of amazing. It helps track the questions and responses on your choice of marketing platforms.
As you create marketing campaigns that target through social media, you will be asked questions about your interior design services. Trust me, you will want to be on point with those answers!

Remember, information on social media is incredibly viral! In addition, you NEED to be incorporating these questions and responses into your CRM database. This will allow you to follow them through the pipeline and determine how long it is from the initial engagement until the second sale takes place. This information is GOLDEN!

In some cases, this can be quite long. BUT, isn't it quite magical to have such a system in place that can measure that?!

3. KEEP TRACK OF YOUR INTERIOR DESIGN CLIENTS AND PROSPECTS

I know this might seem arduous in the beginning, but this is a ticket to greater profits and a more well-rounded business!

Every conversation with a client needs to be recorded and their CRM client profile updated. All of this information is key to creating marketing campaigns that correctly target your desired audience. When a customer first purchases the initial information it's recorded in the CRM database, but that profile needs to be continuously added to and built upon for marketing to be the most effective it can be!

I believe this is a major key to tracking the growth of your business! With a CRM system, you are no longer in the dark about what is working with your clients and what is not. They will want to stick with YOU because you will be doing more of what attracts them and keeps them!

What do you think about all this information? Have anyone of you tried a CRM system? Share your thoughts!

Overwhelmed growing your business and need help? You don't have to figure it out all alone anymore. Sign up for an introductory business strategy call and I'll help you make decisions on the next steps for you and your business. http://www.BusinessCoachNancy.com/consult

Hop into my private FB group the Interior Design Business Forum here to get my daily inspiration, lessons, thoughts of the day and let the community help you become an actionable entrepreneur!!