I am always on the lookout for new ways that interior designers and creatives can showcase their work! That is what a great interior design business coach does, right?! Behance.com has a unique platform for you to share your beautiful images and the work that you do in the interior design world. Behance is owned by Adobe and is a lovely platform if you have never tried it yourself.

Let's not get too excited though! Just like all other platforms, there are plenty of people utilizing this platform, and so I need to give you the tips that will help you stand out and shine!

CUSTOMIZE YOUR PROJECTS

I think the customized feature area of Behance is genius! As interior designers you have the opportunity to use these features to the fullest to showcase your business.

Nice features include behind the scenes images or step-by-step images. So that way your clients can have a real rounded view of how your behind the process works. It also gives you some interesting insights and more in-depth views about your audience and who is visiting your page.

TELL YOUR STORY

Every project that you have worked on has its own story. What story accompanied that project? Use the highlights to tell the story of your project on Behance.com.

As your interior design business coach, I am always looking for creative ways to help tie your visuals into a story that can move people. So what specific things about your projects can move or inspire people?

BE SOCIAL

Just in general, go out into the Behance world and start commenting on people's work. Show you appreciate it. It could open the door to build new relationships. Since everyone on there is a creative of some sort, it might be easy to think, "They don't need my services." But creatives need other creatives, for many different reasons. You never know who could become a partner with some aspect of your business or who is in flat-out need of your services. Or who they may know that could bring new eyes to your impressive work.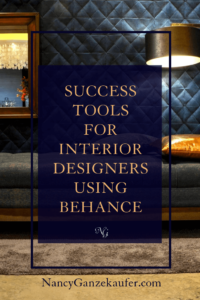 POST YOUR BEST WORK AND SPREAD IT OUT

It might be tempting to get on there and start posting all of your projects all at once. However, the "activity" (on your profile) needs to stay current, which is what you want. When you post stuff here and there over the weeks and months, you appear to be an active member on a regular basis.

Be sure to pick the best of your best projects, as Behance only approves "premier" work.

BUILD TRAFFIC

If you already have an email list, this is a great reason to send them an update on your activity. After you have uploaded or updated your Behance profile, send a link to your email list. They can view your work and maybe see some of the latest projects that you have done. Get them to follow you on that platform so that they can have same-day notifications when you upload your most recent work.

You can also create a Facebook ad if you'd like to drive some of your followers to be a part of your Behance profile.

Doesn't Behance sound like a cool platform? I encourage you all to check it out. If you are already on there, share your experience below. Have any advice or tips that would be good for the community? I would love to hear from you as I am just discovering this as well.

Overwhelmed growing your business and need help? You don't have to figure it out all alone anymore. Sign up for an introductory business strategy call and I'll help you make decisions on the next steps for you and your business. http://www.BusinessCoachNancy.com/consult

Hop into my private FB group the Interior Design Business Forum here to get my daily inspiration, lessons, thoughts of the day and let the community help you become an actionable entrepreneur!!